TechLaw10 Information Technology Podcast

TechLaw10 is a 10-minute audio podcast update from U.S. lawyer Eric Sinrod (Duane Morris) and UK lawyer Jonathan Armstrong (Cordery) where they share insights on developments where technology intersects with the law in the EU and the U.S. These well-known commentators are sought out in the media for their opinions on breaking news and developing trends. Whether you are in North America or Europe, now you can hear directly from them regarding the latest technology issues at home and across the pond.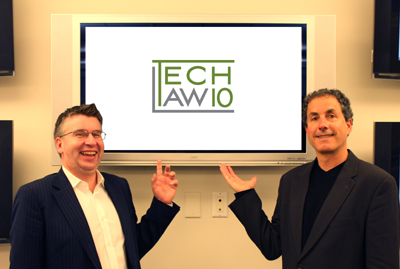 Jonathan P. Armstrong and Eric J. Sinrod
Jonathan P. Armstrong's practice includes counseling multinational companies on matters involving risk, technology and compliance across Europe. He has handled legal matters in more than 40 countries involving emerging technology, corporate governance, reputation, internal investigations, marketing, branding and global privacy policies. Mr. Armstrong is one of the co-authors of the LexisNexis definitive work on technology law, Managing Risk: Technology & Communications. He is a frequent broadcaster for the BBC and other channels and appeared on BBC News 24 as the studio guest on the Walport Review.

Eric J. Sinrod's litigation practice has covered a number of important Internet, software, technology, IP, information and communications issues. Mr. Sinrod has been a regular guest speaker for LAWCAST, the Legal Talk Network, Tech TV, KNX CBS Radio, Live Online News and CNET Radio. He has been an advisor to the Cyberspace Law Seminar at Hastings College of the Law, has taught an Information Law Seminar at Golden Gate University School of Law, and teaches a Business Media class at Ex'pression Center for New Media. Mr. Sinrod is a member of the Editorial Board of the Journal of Internet Law and the ABA Internet Industry Committee.