Relying on the Court's earlier decision in Matal v. Tam, the Supreme Court in Brunetti held that the bar to registration of "immoral" or "scandalous" trademarks is unconstitutionally "viewpoint-based."
On June 24, 2019, in Iancu v. Brunetti, the Supreme Court of the United States struck down the Lanham Act's ban on registering "immoral" or "scandalous" trademarks, two years after the Supreme Court struck down a similar ban on registering "disparaging" trademarks. The decision was a victory for skater, artist and entrepreneur Erik Brunetti, whose application to register a controversial trademark, FUCT, was denied on the basis that it was "immoral" or "scandalous."
Many are hailing the Brunetti decision as a victory for "free speech"—and it is. However, the decision has little to do with whether businesses can (or should) adopt and use profane marks, and everything to do with whether such marks are legally registerable by the U.S. Patent and Trademark Office (USPTO).
The Lanham Act grants the USPTO the power to register certain trademarks, service marks and other source identifiers used "in commerce" that Congress can lawfully regulate. The USPTO must refuse to register certain categories of trademarks under the statutory framework, including marks deemed likely to cause confusion with other, similar marks, and marks that merely describe the branded goods or services. Until the Court's decision in Brunetti, the USPTO was also required to refuse registration for marks deemed "immoral" or "scandalous."
Relying on the Court's earlier decision in Matal v. Tam, the Supreme Court in Brunetti held that the bar to registration of "immoral" or "scandalous" trademarks is unconstitutionally "viewpoint-based"—and thus, violates the First Amendment's freedom of speech clause. The majority opinion, written by Justice Kagan, explains that, under the Lanham Act's ban on "immoral" trademarks, the USPTO could decide whether to approve marks based on whether the mark communicated a more- or less-favorable viewpoint, according to the USPTO's prediction of what a majority of consumers would think about those marks. According to the Supreme Court, that is exactly the type of viewpoint-based regulation of speech that is prohibited by the First Amendment.
Six justices agreed the ban on registering "immoral and scandalous" marks, as a unitary standard, was unconstitutional and had to be struck down. Justices Roberts, Breyer and Sotomayor dissented in part, advocating for a narrower, viewpoint-neutral application of the Lanham Act's ban on "scandalous" material to prohibit registration of trademarks deemed vulgar, obscene or profane—including the FUCT mark at issue.
Although the majority declined to adopt the narrow interpretation of the three dissenting justices on the basis that they would not "rewrite" the statute before them, they acknowledged that some speech-related restrictions could withstand constitutional scrutiny, signaling to Congress that the relevant provisions of the Lanham Act could be amended and upheld. The majority opinion seemingly acknowledged that language prohibiting registration of "lewd," "sexually explicit" or "profane" marks may not violate the First Amendment, suggesting that Congress could adopt such language in an amended statute. Justice Alito emphasized exactly this point in his separate, concurring opinion, noting specifically that the majority opinion leaves room for Congress to adopt a "more carefully focused statute" prohibiting registration of marks "containing vulgar terms that play no real part in the expression of ideas."
Practical Implications
Brunetti Opens the Door for Registering Trademarks Previously Deemed Unregisterable
The USPTO had continued to examine applications for compliance with the scandalousness provision while awaiting the Supreme Court decision in Brunetti, issuing advisory refusals and suspending pending applications for marks deemed "immoral" or "scandalous" by USPTO attorneys. Like in the aftermath of Tam, now that this ban has been ruled unconstitutional, pending applications that have been suspended pursuant to a scandalousness finding will likely be reopened and reexamined for registration. The USPTO will also reexamine applications for marks that were previously refused registration, if applications for those marks are refiled. Accordingly, for those previously denied registration of an allegedly immoral or scandalous mark, now is the best time to refile.
There May (or May Not) Be a Rush to Register Obscene Marks
The mere ability to register an obscene or explicit mark should not, by itself, lead to the increase in obscene or explicit content in the public space. Businesses were always free to adopt and use obscene and explicit trademarks—and use them on T-shirts and other products, and even enforce them in court. They can now also obtain the additional benefits of a federal registration, which should not inspire a new rush to adopt such marks.
While some applicants invariably will rush to register obscene or profane marks—Brunetti has already applied to register the infinitive-verb version of his controversial mark, as shown in the USPTO image, below—for most companies, there are still well-founded, market-based reasons to avoid using and applying to register obscene, profane or vulgar trademarks. Many businesses would find it unprofitable to adopt such a mark, especially in an age of increased corporate social responsibility. Alienating a significant portion of U.S. consumers is another reason not to adopt such a mark. The availability of other distinctive and legally strong trademarks is yet another. Indeed, there may be no business reason at all for adopting an obscene mark.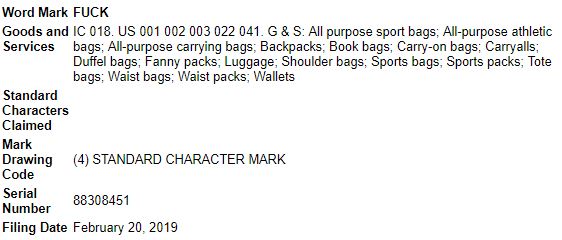 There are also practical reasons to forgo investment in an obscene mark. The Supreme Court agreed that the First Amendment does not prohibit regulation of this narrower type of speech, and Congress will likely respond (at some point) with a revised version of the original ban. Those who devote their resources to using and promoting such marks, like Brunetti, risk future cancellation.
For those who decide to invest in such marks—and for those who seek to register a mark that previously would have been considered "immoral" or "scandalous," but does not fall within the category of obscene, profane or vulgar speech—a valuable path to registration is now open.
For cannabis businesses, as an example, there may be a path to registration for trademarks that explicitly reference cannabis or drug culture, which could not be registered before Brunetti, even if they were only used in connection with lawful goods and services, including in connection with smokers' articles and accessories, or providing consulting services or information in the field of cannabis.
Mark Owners Were Already Free to Adopt, Use and Enforce Vulgar Marks
Throughout the majority opinion and concurring opinions, the Supreme Court seemed to take it for granted that trademark registration only provided some additional statutory benefits to trademark owners, and registration is not required for owning, using or enforcing a trademark. It therefore implied that federal courts would have to enforce common-law rights in immoral or scandalous trademarks, despite the Lanham Act's now-unconstitutional ban on registering such marks. So, this apparent "victory" for free speech may not be as broad or as far-reaching as it initially appears.
For More Information
If you have any questions about this Alert, please contact Nicole McLaughlin, Christiane Schuman Campbell, Kendra C. Oxholm, Victoria R. Danta, any of the attorneys in our Trademark, Copyright, Entertainment and Advertising Group, attorneys in our Fashion, Retail and Consumer Branded Products Industry Group or the attorney in the firm with whom you are regularly in contact.
Disclaimer: This Alert has been prepared and published for informational purposes only and is not offered, nor should be construed, as legal advice. For more information, please see the firm's full disclaimer.