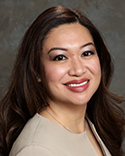 Tracy Gallegos
With 15 years of experience in the legal industry, Tracy Gallegos, a partner at Duane Morris LLP, is setting a new pace for cannabis law here in Las Vegas. In 2004 when she first graduated from law school, Gallegos' practice initially involved representation of homeowners' associations, with some general corporate and real estate transactional work added to the mix. In 2007 after passing the California bar exam, Gallegos transitioned her practice to focus on general corporate and real estate law, corporate and real estate financing, acquisitions and dispositions, as well as entertainment law. By 2010, Gallegos had parlayed her business background into a new area of law that was just beginning to spark interest in the legal community – cannabis law. That year, Gallegos was retained by her first cannabis client to obtain a dispensary license in the San Francisco Bay Area.
Several years later in 2013 when Gallegos first joined a national law firm, the idea of representing businesses engaged in the cannabis space was still largely a foreign one for most large firms given the status of cannabis under federal law. Coupled with somewhat unclear ethics rules set by the various state bar associations, many large firms opted to stay away from cannabis work completely. Nonetheless, Gallegos' prior firm allowed her to bring her cannabis clients to its platform, and Gallegos continued to represent some cannabis companies in both California and Nevada. At that time, because cannabis was only legal for medicinal purposes in California and Nevada, work in the cannabis space trickled in slowly and involved mostly regulatory matters.
Now, six years later, the cannabis industry has blown up (pun intended) more than anyone had ever anticipated, and Gallegos remains at the forefront of the industry. Named as a cannabis law trailblazer by the National Law Journal in April 2019, Gallegos credits her extensive business background as key to her burgeoning cannabis practice.
"A lot of the work that we've seen in the cannabis space involves mergers and acquisitions and licensing. I think the ability to handle the corporate side, as well as the regulatory side, distinguishes me from other cannabis attorneys," Gallegos says. "Aside from that, I have extensive experience on the real estate side and if there's any area that I can't handle for a cannabis client, I know that I have a team with a really deep bench to assist me."
By "team," Gallegos is referring to her colleagues at Duane Morris, where Gallegos is a member of the corporate and real estate practice groups, as well as the cannabis, private equity and fashion, retail and consumer branded products industry teams. With over 800 lawyers located in offices across the United States and internationally, including London, Singapore and Vietnam, Gallegos knew that Duane Morris would be a great fit for her cannabis practice given the full range of legal services provided by the firm.
"Aside from Duane Morris' platform, I was enticed to join the firm because the environment is truly collaborative in nature," Gallegos states. "In the short time I've been with the firm, so many people have helped me not just with the substantive work that I brought to the firm, but with my transition. I'm excited to be at a firm where everyone is committed not just to helping clients, but helping each other."
Gallegos has worked with clients ranging from startups to large, established businesses. In the cannabis space in particular, she has represented cultivators, retail operators, manufacturers, and businesses providing ancillary services to the industry. Despite her busy practice, Gallegos takes the time to individually work with each client, with the assistance of her team. Her goal is to, "make businesses able to function properly and become prosperous. We are not just legal counsel to our clients, we are also their business partners."
Gallegos prides herself on being a hard worker, selfstarter, and an influencer in the legal community. She has found her new home at Duane Morris and looks forward to a long and prosperous career there. Gallegos is proud to service the cities of Las Vegas and San Francisco as a woman leader in her field. MyVegas is proud to name Tracy A. Gallegos, as a multitalented industry leader, and accomplished Top 100 Woman of the Year!
For more information, visit the MyVegas magazine website.