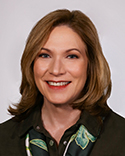 Sharon Caffrey, Duane Morris partner and co-chair of the firm's Trial Practice Group, participated in The Legal Intelligencer's Women in the Profession Roundtable in July 2018. Below are excerpts from the panel.
---
The editorial staff of The Legal has always been aware that the hiring and retention of female attorneys is an ongoing issue in the legal community. In an effort to discuss some of the specific problems facing female attorneys and present potential solutions to those problems, we invited 10 practitioners to talk about how to bolster the role of women in the law. …
SHARON CAFFREY: I think that the one problem, going back to your initial question, the formal mentoring, is that not everybody is suited to be a mentor, and not every relationship is going to gel. So to me, it is the informal mentoring that is the most important. And it has to happen organically. It has to be with somebody they work with, to bring along a junior associate, or a senior associate to make them partner.
One of the things that I think has worked for the women who have been really successful and risen to partnership at Duane Morris at least, is that they have had that sponsor. They have that person in their corner giving them opportunities, telling them you can take this deposition. You can do this witness at trial. You know, I still remember giving a witness to a young partner who had not cross examined anybody at trial and sitting on my hands saying you can't react. You can't react. Don't do it. She has got to learn, but they learn. But you have to get the clients to buy into that. That's another important piece of it, but I think that to me, the formal mentoring is good so that people don't fall through the cracks. But it is never going to be the same as that organic relationship where somebody feels vested in you. …
CAFFREY: The one problem I see in the whole working from home, having flexibility is the first four years of practice, the learning curve is so high, and you actually need to be able to talk to people and engage them on a regular basis. So for young associates, I tell them if you need to go to the doctor, you need to be home, you need to travel to visit sick family, do it, but understand that you also need to be in the office, engaging and learning from the other people around you because you don't understand where in the rule book you are going to find whatever you need, or what other sources there are. And, yes, you can call people, but there is a lag. You know, it is a call. It is a message. It is phone tag. It is emails that might not get responded to immediately because somebody is in a meeting. So I always encourage the young lawyers to ride out that first four years when the learning curve is so high, and it is taking you longer to do things before they really build in the work-life flexibility to their life. I still, I always say I am full-time, flextime because at each stage of my life it has been something different. Right now it is looking at colleges with my daughter. I spent two or three days, probably like five days in July out of the office taking her to different colleges and interviews, and my husband and I have been juggling. That's a different stage than taking care of an infant or a puppy or an elderly person, but it is still a stage that you have to deal with. You can't not deal with it. Most of the colleges don't accommodate Saturday visits in the summer. So at each stage of your life you are doing that. But it would be really hard to do this for over a course of a month if I were a fourth-year associate trying to get a brief done. It is something different. I am editing stuff. I can do that at night in a hotel room. …
CAFFREY: [Firm culture is very important.] It is huge. There is a way to work. We have a Quaker Foundation. We reach consensus. There aren't votes. That's our culture. It is very important to us. We hold onto it. And we try to improve upon it, but if an associate wants to go plowing in and take no prisoners, they are not going to be successful at our firm. That's not within our culture. Even partners who do that, have that personality, they are not going to be long-term successful at our firm because they are not going to be collaborative. Because we have a collaborative environment. That's not for everyone. But, you know, I have seen associates that commit career suicide by trying to take no prisoners, and having that personality and thinking that they can just do things the way they want to do them, and you really, you have to kind of be an observer and observe how things get done in your place. You can improve upon it. You can make suggestions and be opinionated and express your opinions, but there are ways to do it positively to get things done. …
CAFFREY: Our particular model probably doesn't credit origination as much as it does work. So the nice thing about that is everybody wants to go on your pitch. Because if they are going to get the work, and get to do the work, that helps them. And if it is good work, and it is a high rate, and it is interesting, they are really going to want to go on your pitch, even if they are not getting credit because they get the credit for the work done and for the successful pitch. I think the more we model that way, the more we are going to include people who aren't just the person with the contacts at the CEO level. …
To read the full text of the article, visit The Legal Intelligencer website (subscription required).