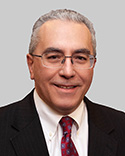 Thomas G. Servodidio
In the latest example of Big Law expanding benefits to ease burdens on caregivers and woo younger lawyers, Duane Morris has launched a "ramp down/ramp up" program designed to help lawyers ease in and out of billing requirements when they become parents.
Under the new policy, attorneys in the U.S. who take primary caregiver leave from the firm can reduce their billable requirements up to four weeks before their leave for the birth or adoption of a child.
Likewise, on the return of the attorney to the firm, attorneys can work on a reduced schedule for up to three months and gradually "ramp up" to their regular billable hour requirement.
"We're regularly taking a fresh look at what our policies are with the ultimate goal of wanting to be a family-friendly law firm," Duane Morris vice chairman Tom Servodidio said of the initiative.
Duane Morris currently offers 16 weeks paid leave for primary caregivers after the birth or adoption of a child. After that, attorneys can tack on an additional four weeks of vacation and then another month of unpaid leave, should they choose, Servodidio said.
In their first month back, the firm will allow partners and associates returning from primary caregiver leave to work at a 30 percent reduced schedule without a reduction in their regular base salary, he explained.
The reduction in hours will dip to 20 percent in the second month and 10 percent during the third month, before lawyers finally revert to a full-time schedule in the fourth month.
"This is all designed … to help balance those demands of home and work in a way that hopefully gives you a better transition in and out of the birth or adoption of a child," Servodidio said. …
One reason for these updates, Servodidio said, was to counterbalance the time pressures that practicing law can take on family life.
"A client service industry has its own unique pressures because we want to be delivering the absolute highest quality service for our clients," Servodidio said. "Trying to figure out ways in which we can try to ease that tension I think helps us to continue to meet our primary objective of excellent client service, but at the same time do it in a way that's perhaps less anxiety-producing, and helps us to retain talent long term at the firm."
Reprinted with permission from The American Lawyer, © ALM Media Properties LLC. All rights reserved.