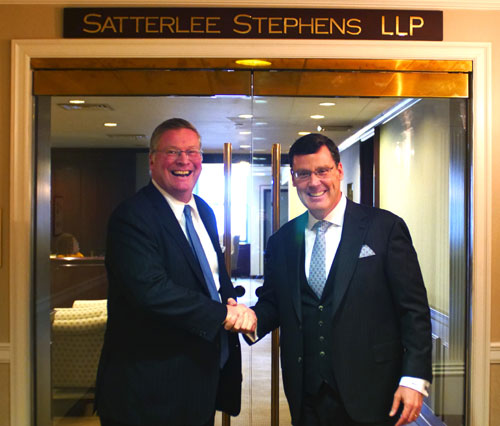 James Coster and Matthew Taylor
Duane Morris and New York-based Satterlee Stephens said Thursday that partners at both law firms have "approved the material terms" of a merger agreement and expect a deal to be finalized by Feb. 1.
The 65-lawyer New York-based Satterlee Stephens would increase the size of the Duane Morris Manhattan office to more than 160 lawyers. In an interview, Duane Morris chairman Matthew Taylor said the two firms have been aware of each other for quite some time but began merger talks last May. He said Duane Morris soon discovered that in Satterlee Stephens it had a good cultural, practice and economic fit. […]
"Satterlee Stephens' three strongest industry sectors [that the firm represents] are financial institutions, tech and health and life sciences," Taylor said. "That's three of our top five. They work with Fortune 500 financial institutions." […]
"New York is mission critical," Taylor said. "We have a strategic plan and for any AmLaw 100 firm, you need to be strong in the center of the world and that's New York. This gives us great depth and breadth. It's a game changer for us."
To read the full article, visit the Philadelphia Business Journal website.