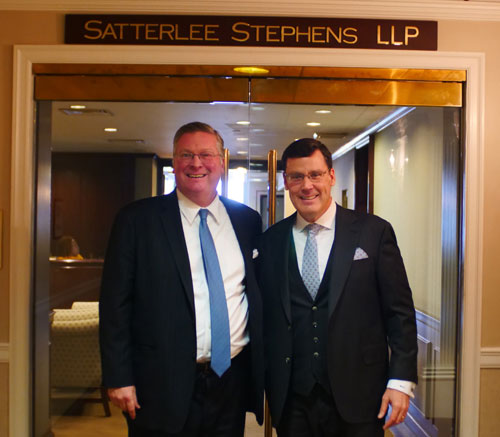 James Coster and Matthew Taylor
Duane Morris LLP and Satterlee Stephens LLP are on course to combine into an 850-attorney law firm after partners at both firms backed the merger, firm leaders confirmed Thursday. [...]
"Our existing clients need to know that their law firm just got materially more talented, and our bench got materially deeper, and the breadth of our service offerings got materially stronger," Matthew Taylor, chairman and CEO of Duane Morris, told Law360 on Thursday.
Since Taylor first joined Duane Morris 1997 as a senior associate, the 115-year-old firm has grown from about 200 lawyers to four times that size. As the two firms combine, maintaining their cultures is a top priority, as is having a seamless integration, Taylor said.
"We've had opportunities to grow many places, many times, and we've walked away from situations where we just didn't think that the cultures would be a fit," Taylor said. "It was very clear that from a cultural standpoint, this was a win-win." […]
According to Kent Zimmermann, a principal at legal consultancy Zeughauser Group, previous successful law firm mergers have had at least two common threads — shared strengths in the industry sectors, practice areas and geographies the firms focus on, as well as similar aspirations for the future.

Zimmermann, who advised Duane Morris on strategy in the lead-up to the deal, called the combination a "standout."

"I think Duane Morris and Satterlee have shared strengths and shared aspirations, and that's part of the value of them coming together to join forces," he said. […]
To read the full article, visit the Law360 website (subscription required).