Thermodynamo: A Q&A with Sheila Slocum Hollis
By Dirk Olin
December 14, 2016
Law.com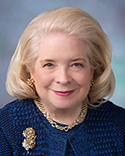 Sheila Slocum Hollis is chair of the Washington, D.C. office of Duane Morris. Founder of that office as well as the firm's energy, environment and resources practice group, she has been a pioneering practitioner for more than 40 years. She recently sat down with ALM Director of Legal Intelligence Dirk Olin to discuss her world—from Ethiopia and Eastern Europe to gender diversity in the profession and the social psychology of leadership.
ALM Intelligence: As a woman, an energy practitioner, and a firm manager, you've seen seismic shifts occur during your professional life. Before we delve into those, you had an extraordinary upbringing and family life. Could you reflect on that?
Hollis: Well, it's a complex history, and it's not a traditional childhood in any stretch of the imagination. I grew up as an only child of an only child, and subsequently, I have an only child—all three of us women. My mother was a very colorful, gifted person, an artist and a thinker, who was capable and did in fact raise me almost single-handedly. My father died when I was a young teenager. But my mother was, among other things, a draftsman, an artist, a weapons designer at Hanford Laboratory in Washington and Las Alamos National Lab in New Mexico. I'd lived at approximately 20 different addresses by the time I was 16, basically all over the West. My mother was also a small town player in real estate. She liked to rent and flip property, and did a lot of the work herself.
My father was working on his doctorate in neuroanatomy from the University of Michigan. Sadly, he became ill, then, even more sadly, was hit by a car in a hit and run in Denver. He lived a year, semiconscious half the year, and the last six months of his life basically unconscious.
Now my mother was quite a maverick personality, and just a lot of fun to be with. That sort of set the base for my life. I graduated high school early, and I went to the University of Colorado at 16. I married my high school sweetheart, and had a baby by the time I was 20. It was a fast-moving world, and remember, setting it in context, this was the 1960s. Boulder was in a state of turmoil, with the Vietnam War, the awakening of the women's movement, and the beginnings and post enactment of the Civil Rights Act of 1964
I guess that's more than you care to know, but it gives you a sense of the kind of non-traditional background I had. It prepared me for just about anything.
ALM Intelligence: Talk about how you ended up in D.C. It started somewhat by chance but became a life's calling, right?
Hollis: It did start out somewhat by chance, but in other ways, it's interesting how life pushes you in a direction and the fates sweep you along. It was almost serendipitous in some respects. I had planned to practice law in Denver. The firm that I was to join was an established, small but very highly respected firm in the real estate area. I was gearing up to be a real estate/tax lawyer, and was packing my bags to go to the NYU Tax Institute, but guess what? The recession came, and the interest rates went up to 21-22 percent. The gas lines were in some cases miles long. And, serendipitously, I went to an interview with the Federal Power Commission. It had never, ever been to Denver before, but it came to Denver. I had taken a tremendous amount of international law, law of the sea; I don't know why I was taking law of the sea except I loved the professor in Colorado. So, I basically hit it off very well with the Federal Power Commission representative, and I got the job offer, fundamentally on the spot. That was in November of 1973, and I started work in March of 1974 at the then Federal Power Commission.
ALM Intelligence: Before we get into some of that substantive work, can you describe some of the more "appalling" questions or encounters you had to endure during your interviews when starting out?
Hollis: I'll call them odd; some might have called them appalling. First of all, I never had a woman law professor, and I was interviewed by men in a variety of the more amusing interviews. Actually, I wanted to be an FBI agent. I guess I had been watching too many TV shows, but I liked the idea of law enforcement. It must be my Irish heritage. I have a lot of distant relatives in Philadelphia, and they have all gone into law enforcement. I was almost thrown out immediately. I was advised that I was not tall enough to be an FBI agent. This was one of the first years that they had allowed, even considered women. That was one of the more amusing ones.
Then, there was the infamous landman interview—for oil and gas exploration—in which I was asked if I could read. They said, "Didn't you see the sign there? It says land men." There were some other, more colorful ones which I will not share with you, they would be too . . . not for publication!
But, one particularly shocking one was with a judge; I will not say federal or state. I was the first woman this very distinguished judge had interviewed. He started by asking me whether my husband approved of me working, and who would take care of my child? I said, "Well, you know, gosh, I think he probably approves. We were married before I went to law school, and I've worked fundamentally my whole life since being a teenager. I think we have our family situation in a state where that should not slow us down too much."
ALM Intelligence: And now to the heart of the matter—your energy practice—how did you come to select that practice area?
Hollis: I packed my bags for D.C. about a week and a half after I took the bar, and started working at the Federal Power Commission. It was a time of natural gas and oil shortages. There was chaos in the energy market with long gas lines in D.C. as well. And, I think I came into it somewhat comfortably because I'd been around energy. My mother had been a geological draftsman, an electrical draftsman, and in the weapons design world. She'd been down in the mines and out in the oilfields. Also, I'd had enough geology and science that I could at least be slightly conversant in some of these areas. I got extremely lucky. I did not seek out the energy practice; it kind of sought me out. I walked through that door, and here I am.
ALM Intelligence: We've gone through gas shortages, core meltdowns, massive grid blackouts, and oil spill disasters, not to mention the advent of alternatives and the birth of fracking. Can you discuss some of the milestone moments for you?
Hollis: Well, the gas shortages were incredibly important in shaping my career. Coming in during a period of shortage, I have the greatest respect for the availability of energy and what happens when you don't have it.
After I left the Federal Power Commission and went into private practice, I represented the Public Service Commission of the State of New York. In the winter of '76-'77, there was a huge natural gas shortage, particularly for industrial uses. Many people were out of work. There was real desperation. Several hundred thousand people were laid off in the State of New York. But, a deal was negotiated, and I'm happy to say I played a role in it. At that time, the deal would allow the importation of large quantities of natural gas from Canada. So, I always think in terms of "How is this going to affect people if energy supply is interrupted, and life as we know it comes to a screeching halt?" That's even more significant an issue now, based on how incredibly dependent we are on the availability of electric power.
Consider all the events that transpired just in the first few years I was here, the gas shortage, the coal strike, which gave us a shortage of electricity, and blackouts. There was a blackout in 2003, and I represented the grid in that blackout. And I've represented clients on many related aspects including oil spills and environmental disasters. I'm not truly an environmental lawyer; nevertheless, the environmental issues go hand in hand with energy issues. They're joined at the hip. From day one, whether it was dealing with a new pipeline, the closure of coal plants, or the Three Mile Island catastrophe, the environment became central. So, I also have a very strong fixation, I guess you might say, on the environmental side to these issues, and on the fact that, fundamentally, there's no free lunch. Tough decisions and tough questions come up. Choices have to be made, and an analysis of what to mitigate, improve, or avoid completely is central to almost every issue I'm involved in now.
As for milestone moments, if you look at the Energy Policy Act of 1978, many aspects of it are still alive and kicking. Do you remember the "Moral Equivalent of War" speech by Jimmy Carter? It was written in that time, and because there was a shortage, there was a need to look for alternative sources of energy and to begin to examine the centralized nature of the grid and the generation, transmission, and distribution all by one company. The seeds for the restructuring of both the gas and electric industries were planted at that point, and became a key part of the unfolding of the energy business as it is now.
Under President Carter, I became Director of Enforcement and established the Enforcement Office of the Federal Energy Regulatory Commission. When I walked in the door, I didn't have any staff whatsoever. When I left, we had 65 staff members comprised of 35-40 attorneys. That was about two and a half years later.
After I left, I went into private practice, and I went with what was a very wonderful old firm called Butler Binion. Sadly, it no longer exists. Because of the restrictions on doing work before the Federal Energy Regulatory Commission, I began moving to an international arena. I began work on a World Bank project and spent several years in and out of Ethiopia in the early 1980s, on the development of the oil and gas code for Ethiopia (which was at the time a Marxist state). I traveled in and out of Ethiopia from 1981 through 1984, and during that time I got a taste for real international energy development. Then, the beginning of independent power appeared, and I began to do independent power projects and also restructuring of different economies.
The gas shortage came and went because of the enactment of policies that allowed the price of natural gas to go up for awhile, but then, it fell quickly in the early 1980s. That allowed independent power projects to appear in the U.S., utilizing cheap natural gas. I represented several states over the years, and also a Canadian Province and occasionally other players in Canada as well.
Working in projects throughout the world, I think there have been a number of milestones for me: working in East Africa to assist in the development of its resources, working post fall of the wall in Eastern Europe, and to a certain extent in Russia and China, and watching economies burst forth has been incredibly exciting. It certainly is fraught with hurdles, difficulties, and complexities. The recognition that energy is a human right and linked with food and water supply issues as well, those three elements, really, have become the cornerstone of decency and a civilized existence.
As a delegate to Rio+20, on behalf of the American Bar Association's Section of Environment, Energy & Resources, I saw people come together from throughout the world and demonstrate a respect for the development of resources, coupled with protection of the environment and the provision of the basics of life including electric power, clean water, and an adequate food supply. Getting to those basics and realizing the massive need throughout the world for these things was really a milestone in my career.
Another milestone, I think, was teaching energy law for 20 years at George Washington Law School. Seeing where their careers took my students—into politics, public service, NGOs, private practice, and corporations—made me proud. Energy law opened up the world to them, as it had to me, and I take pride in seeing that happen.
ALM Intelligence: Do you have any thoughts on some of the particularly big energy controversies right now? The Keystone pipeline? The Standing Rock Sioux protests against the Dakota pipeline?
Hollis: Well, this is emblematic of the dilemmas that I think we confront every day in the NIMBY (not in my backyard) and BANANA (build absolutely nothing anywhere near anything) world. Those types of dilemmas occur, almost inevitably, whenever a major energy project is built. Frankly, it is unrealistic to believe no impact will occur, but it is realistic to reduce and mitigate the impact as much as possible. Regardless of what type of energy project is being constructed—and I include in that, large wind and solar projects along with oil and gas, hydroelectric, and nuclear power—each and every one of these has a different set of impacts. Addressing these impacts must be a cornerstone of the development. That is the biggest challenge that lies ahead.
From a legalistic standpoint, concerns about properly obtaining a variety of key permits, creating jobs, and making huge expenditures only to then have the permits not be recognized or basically "yanked" is a serious problem. The stability of investment in major infrastructure is impacted by such actions. How do you convince the developers and financial backers to make heavy capital investments in infrastructure if there's no stability in the process? Collaboration early on, the venting of concerns, and the resolution of issues, basically, before the train pulls out of the station is critical. There has to be a solid basis for action. The spotlight is now on the need to respect the needs and concerns of indigenous peoples; Standing Rock Sioux have made their cause a national issue. To have a legal/policy foundation for principled development, we must try to get the issues out on the table and dealt with up front, as opposed to when a project is 95 percent complete.
ALM Intelligence: You've served as managing partner for the D.C. office. How did that come about? Was it rewarding? Thankless? Both?
Hollis: Well, it's exciting and very tough. The personnel problems are always the hardest. Building a team is essential, but requires patience, oversight, dialogue, and flexibility. I'd had leadership roles ever since I stopped being an associate. Then, my own smaller firm became the Washington office of Duane Morris, which led to me being managing partner in the D.C. office, being on the Partners' Board, and being the first woman and the first non-Philadelphian to ever be on the firm's five-member Executive Committee.
Duane Morris has proven to be a great place for women to prosper and grow. Fairness and openness led me to it! And it's why I have stayed 20 years. Of course, I became a leader by being the one left standing in the center of the room, after nobody else would do it! Leadership roles in the bar associations helped a lot as well.
ALM Intelligence: Despite some progress on the gender diversity front, Big Law still sees steady attrition among women lawyers and low representation within leadership. Any magic wands up your sleeve?
Hollis: No, I don't see magic wands. Work with good people and do the best work possible. Those are magic! I think it's grinding along. My own experience is that "beating the gender issue to death" is not a great strategy. Now, demands of the clients may drive diversity, including women in key roles in the firm and encouraging their development. Women are gifted in leadership and management. They just need to get a chance to do it. We have a long way to go, but it's interesting to see how much progress has been made in the U.S. Law is a very tough business for women and men. It takes a toll, and not everybody wants to pay that toll.
ALM Intelligence: But you did?
Hollis: It has been a privilege to work throughout this wonderful country and to work with men and women from every culture and perspective. These areas of the country are not necessarily on a tourist map, although they ought to be. Getting to know people throughout the country and always having the great topic, energy, to talk about—the need for energy, the cost of energy, the problems associated with building it, moving it, and using it, and the great opportunities for savings in energy, and how energy impacts them—is a key part of my career.
I recommend finding an area of law you feel passionate about—intellectual property, healthcare, immigration—and build skills and relationships. My practice led me to every state in the union, learning the issues key to the development of geothermal energy in Hawaii, nuclear power in New England, gas-fired power all over, and the accompanying electric, gas, oil, railroad transport systems. I've walked miles of pipeline right of way looking at the tortoises, birds, and archaeological surprises. I've been to the Sierra Nevadas and traveled throughout California in connection with hydroelectric and other energy development, to Mexico for geothermal resources, and to Colorado and New Mexico for solar. Across the board, it's been absolutely extraordinary.
ALM Intelligence: To some, the biggest single issue facing civilization is climate change. What role, if any, can Big Law play in that regard?
Hollis: There's many things. First, realize that this issue is enormous in its impact; that whatever your political views on it are, it is an issue that has to be contended with and responded to. The issue has captured the scientific community in many parts of the world, from the Royal Society in the U.K. to scientists in India, China, and Africa. Love it or hate it, the issue will continue to be central in the scientific and cultural discourse of the years ahead Thus it must be contended with, responded to, and thought through. And, the simple answer—if there is a simple answer in discussing such a monumental issue—is, if energy can be saved, let's save it. If energy can be developed in a way that mitigates impact to the environment, to the maximum extent possible, let's do that too. So, those two principles are certainly, for me, guiding ones.
And then, let the games begin as to how all this falls into place. Big Law will certainly be involved because, as I have waxed philosophically, energy and environment impact everyone on earth. For worldwide development and improvement of living conditions for all God's creatures, the needs for energy are great. The demands for a reliable, cost effective energy supply will continue to grow. It's on us to represent our clients effectively and thoughtfully, and to realize that this is an issue that the best minds in the world will be contending with for centuries to come. So let's do the best we can, handle it in a way which respects the views of all, and produces the greatest positive results for all. And where we can't agree, let's at least agree to keep working on a solution for the future.
Reprinted with permission from law.com, © ALM Media Properties LLC. All rights reserved.