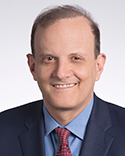 Jonathan Segal
At some point, the biggest American companies are going to tell their employees it's time to leave home and return to work.
That decision will be fraught with risk without widespread testing for the COVID-19 virus. For some industries, such as Wall Street banks, ubiquitous testing is essential to bringing back their workforce to offices around the globe. For other industries, such as automakers, plans are already being made to open factories as early as May.
[...]
Legally OK, Reputationally Questionable
The tension between getting up and running as soon as possible versus taking chances with the health of employees is both a moral and a legal quandry. Employers have a relatively low legal risk, but a high reputational one, if they rush people back to the office, said Jonathan Segal, an employment attorney at law firm Duane Morris who specializes in human resources and minimizing companies' legal and business risks.
Employers have a duty under the Occupational Safety and Health Act to make sure they provide a safe workplace. But it will be hard for an employee, client or customer to prove they were exposed to COVID-19 at the workplace, rather than the dry cleaner or grocery store, Segal said.
In addition to certain industries reopening before others, companies will also likely introduce employees slowly back to the workplace, rather than bringing everyone back at once, Segal said. A gradual return would help maintain social distancing in early days and would also give companies time to require employees to fill out health assessments or get tested, he said. The U.S. Equal Employment Opportunity Commission issued guidance in mid-March, saying it's legal for companies to ask employees if they have symptoms of COVID-19, such as a cough or shortness of breath, and take their temperature.
Companies that have been able to sustain with employees working from home may want to extend those policies until workers are comfortable coming back on their own, Segal said.
"In the absence of an all-clear, employees may say, 'I don't want to come back to work and if I do, I want that to be the exception not the rule. I want to come in on Wednesday and sign what I need to sign and pick things up. I want to come in at 4 in the morning,'" Segal said.
[...]
To read the full article, visit the CNBC website.