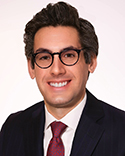 PHILADELPHIA, May 8, 2017—Duane Morris attorney Adam Berger has been named chair of the Pennsylvania Bar Association's (PBA) Gaming Law Committee, beginning on May 12, 2017. The PBA Gaming Law Committee is responsible for reviewing, studying and making recommendations concerning legislative proposals in the area of gaming law; promoting the understanding of laws, regulations and court decisions in the gaming area; and developing materials and educational programs of interest to gaming practitioners to promote improvements and professionalism in the field.
"Over the past decade, Duane Morris has become a leader in the area of gaming law and regulatory matters," said Hersh Kozlov, leader of the firm's Gaming Industry Practice Group. "We are proud that the Pennsylvania Bar Association acknowledges our leadership role in the industry, and we congratulate Adam on his appointment."
Berger's practice focuses on regulatory and transactional matters, almost exclusively within the gaming industry. He has extensive experience representing casinos, casino holding companies, gaming equipment manufacturers, and counsels banks, private equity funds and hedge funds in connection with mergers and acquisitions, debt transactions, licensing, compliance matters and regulatory investigations. Additionally, Berger has represented clients in competitive licensing contests before various gaming agencies. He regularly advises clients on emerging developments and legislation affecting the brick and mortar and internet gaming industries.
Berger is a 2010 cum laude graduate of Villanova University School of Law and a 2007 magna cum laude graduate of The George Washington University. Admitted to practice in both Pennsylvania and New Jersey, Berger serves as the chair of the New Jersey State Bar Association Casino Law Section through May 2017 and will continue as a trustee after his term. He previously served as both secretary and treasurer of the section.
About Duane Morris' Gaming Industry Practice Group
Duane Morris Gaming Law attorneys help clients navigate the regulatory and permitting processes, advise on capital development projects and construction transactions, handle labor and employment concerns, provide intellectual property protection, offer tax and real estate advice and handle any litigation or arbitration involving our clients when disputes arise in any setting. With a long history and extensive industry contacts—in the United States and abroad—the firm's gaming law attorneys help clients seeking to capitalize on opportunities, leverage contacts and address the challenges faced by owners and developers of casino, racing and entertainment venues. In this highly competitive forum, where timely, knowledgeable and practical professional advice can mean the difference between success and failure, Duane Morris is well-positioned to provide that advice and counsel, wherever our gaming clients reside.
About Duane Morris
Duane Morris LLP provides innovative solutions to today's increasingly complex legal and business challenges through the collaborative culture of its more than 750 attorneys in offices across the United States and internationally. The firm represents a broad array of clients, spanning all major practice areas, serving dozens of diverse industries.