Duane Morris Attorney Christiane Campbell Named Chair-Elect of Pennsylvania Bar Association's IP Section
May 15, 2013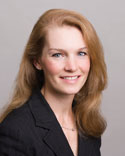 PHILADELPHIA, May 15, 2013—Duane Morris LLP intellectual property attorney Christiane Schuman Campbell has been elected to serve as the 2013–2014 chair-elect of the Pennsylvania Bar Association (PBA) Intellectual Property Section. Campbell will also continue her role as chair of the Trademark Subcommittee for the Section.
Campbell practices in the area of intellectual property law and has extensive experience with trademark maintenance and enforcement, including enforcement over the Internet. She has handled domain name disputes in federal court and before arbitration panels under ICANN's Uniform Domain Name Dispute Resolution Policy. Campbell has litigated issues of trademark and trade dress infringement, unfair competition, copyright and licensing disputes in federal court. Her trademark litigation experience also includes opposition and cancellation actions before the Trademark Trial and Appeal Board and collaboration with counsel outside the United States on foreign opposition and cancellation actions. Campbell has experience performing due diligence for companies acquiring IP assets out of bankruptcy, and implementing assignments of marks and licenses back from IP holding companies. Her anti-counterfeiting experience includes the development and implementation of surveillance programs for the seeking out and prosecution of vendors offering counterfeit and gray market goods on the Internet, mainly in the high-end fashion and consumer electronics industries. She also has experience with the recordation of trademark registrations through U.S. Customs and Border Protection to stop the importation of counterfeit or infringing goods at the U.S. border.
Campbell is a member of the International Trademark Association, the American Intellectual Property Law Association, the Association of Trial Lawyers of America and the Benjamin Franklin American Inn of Court for Intellectual Property Law. She is a 2005 graduate of Franklin Pierce Law Center, where she obtained both a J.D. and a master's degree in Intellectual Property, and a graduate of Bucknell University.
About the Pennsylvania Bar Association (PBA)
The PBA, established in 1895, aims to advance the science of jurisprudence; to promote the administration of justice; to see that no one, on account of poverty, is denied his or her legal rights; to secure proper legislation; to encourage a thorough legal education; to uphold the honor and dignity of the bar; to cultivate cordial intercourse among the lawyers of Pennsylvania; and to perpetuate the history of the profession and the memory of its members. The PBA Section on Intellectual Property promotes the objectives of PBA within the particular fields of intellectual property, and furthers the development of the law and procedures related to intellectual property law.
About Duane Morris
Duane Morris LLP, a global law firm with more than 700 attorneys in offices across the United States and around the world, is asked by a broad array of clients to provide innovative solutions to today's legal and business challenges.