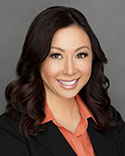 Cyndie M. Chang
LOS ANGELES, May 7, 2018—Duane Morris LLP attorney Cyndie M. Chang, managing partner of the firm's Los Angeles office, has been honored with the Southern California Chinese Lawyers Association's first-ever Trailblazer Award.
Organized in 1975, the Southern California Chinese Lawyers Association (SCCLA) was one of the first Asian Pacific American (APA) bar associations formed in the United States. SCCLA provides support for Chinese and APA lawyers, jurists and law students throughout Southern California, and also participates in statewide and nationwide initiatives that advance diversity and the interests of all minorities.
Each year, SCCLA recognizes a legal practitioner based upon his or her individual achievement and contribution to the APA legal community. Chang was selected to receive the Trailblazer Award based on achievements in her legal career, her championing of issues affecting immigrants and other marginalized communities, and overall dedication to the APA community.
"As a female APA lawyer who has been accorded numerous local and national honors and a community leader in multiple organizations, including being a past president of SCCLA and of National Asian Pacific American Bar Association [NAPABA], Cyndie was the perfect choice. She has truly blazed the trail for other female APA lawyers, who will no doubt benefit from her path," said incoming SCCLA President Shirley Wei.
Chang served as president of the SCCLA from 2013-2014 and as president of the NAPABA from 2016-2017. She is an active member of both organizations and has held a variety of leadership positions throughout her career. In recognition of her involvement and service, the NAPABA named Chang to its Best Lawyers Under 40 list in 2010.
Chang handles litigation involving complex business disputes and torts, trademarks, trade secrets, unfair competition, fraud and real estate. Her experience spans various industries, including fashion, retail and consumer goods, manufacturing, utilities and telecommunications services. Chang also handles insurance coverage claims involving large environmental, asbestos and toxic tort matters.
Recognized by her peers in the legal community, Chang was named one of the 50 most Influential Minority Attorneys by Los Angeles Business Journal, and has appeared on the Daily Journal's Top 100 Women Lawyers in California list, The Recorder's Lawyers on the Fast Track list and – along with the firm – was the recipient of Pro Bono Service Award from Asian Americans Advancing Justice – Los Angeles. Since 2014, she has been featured in Los Angeles magazine as a "Southern California Super Lawyer."
One of the few female, Asian-American office managing partners at an Am Law 100 firm, Chang currently serves on Duane Morris' governing Partners Board. She frequently speaks on substantive and professional issues across the country, including at events for the ABA, Defense Research Institute, the California State Bar, Center for Asian Americans United for Self Empowerment and the Committee of 100.
Chang is a 2003 graduate of Loyola Law School and a 2000 graduate, with honors, of Johns Hopkins University.
The SCCLA will be recognizing Chang at its annual installation banquet on May 25 at the Westin Bonaventure Hotel in Los Angeles.
About the Duane Morris Los Angeles Office
Duane Morris' Los Angeles office offers a wide range of services to clients throughout the country and internationally, and works closely with the firm's offices on the West Coast, including San Francisco, Silicon Valley and San Diego. The firm's Los Angeles lawyers practice in a broad array of areas, including complex litigation and alternative dispute resolution, insurance and reinsurance, real estate, corporate, banking, bankruptcy and intellectual property.
About Duane Morris
Duane Morris LLP provides innovative solutions to today's multifaceted legal and business challenges through the collegial and collaborative culture of its more than 800 attorneys in offices across the United States and internationally. The firm represents a broad array of clients, spanning all major practices and industries.