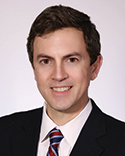 PHILADELPHIA, October 26, 2016—Duane Morris LLP attorney Luke P. McLoughlin received the firm's 10th annual Duane Morris Pro Bono Award. The award honors the outstanding service of any attorney or group that exemplifies Duane Morris' commitment to pro bono service and has made a significant impact on an individual or community. The recipient may select a local legal services organization to which the firm will make a $5,000 charitable donation to support its efforts. McLoughlin received the award at Duane Morris' annual firm meeting.
McLoughlin was honored for his representation of the National Veteran Small Business Coalition, other national veterans organizations, and numerous veteran-owned small businesses as amici curiae before the U.S. Supreme Court. Contrary to the terms and purpose of the Veterans Benefits, Health Care, and Information Technology Act of 2006, the Department of Veterans Affairs (VA) had improperly limited the statutory opportunities for competitive bidding by veteran-owned small businesses. On behalf of the amici clients, McLoughlin advocated for the Supreme Court to grant certiorari in the case, and then briefed the Court on the real-world impact of the VA's erroneous approach. The Supreme Court's unanimous decision rejecting the VA's interpretation affects billions of dollars of government contracts, and restores to tens of thousands of veteran-owned small businesses across the United States the contracting opportunities that Congress intended.
McLoughlin focuses his practice on complex litigation matters, and he has significant experience representing clients in business disputes involving financial instruments, trade secrets, software and contracts. He also represents financial institutions, corporate entities and individual clients in complex commercial litigation matters in federal and state courts throughout the United States, and he has represented clients at all phases of litigation, including pre-litigation counseling and investigation, discovery, motion practice, requests for injunctive relief and trial. In addition to his trial practice, McLoughlin represents companies on appeal before federal and state courts.
McLoughlin is a 2005 magna cum laude graduate of New York University School of Law, where he was articles editor of the New York University Law Review, and a magna cum laude graduate of Harvard University.
About the Duane Morris Pro Bono Program
Duane Morris' Pro Bono Program provides free legal services to those in our communities least able to afford them. The importance of pro bono work and volunteerism has been an integral part of Duane Morris' culture and a backbone of our value system since the firm's inception more than 110 years ago.
About Duane Morris
Duane Morris LLP provides innovative solutions to today's multifaceted legal and business challenges through the collegial and collaborative culture of its more than 750 attorneys in offices across the United States and internationally. The firm represents a broad array of clients, spanning all major practices and industries.