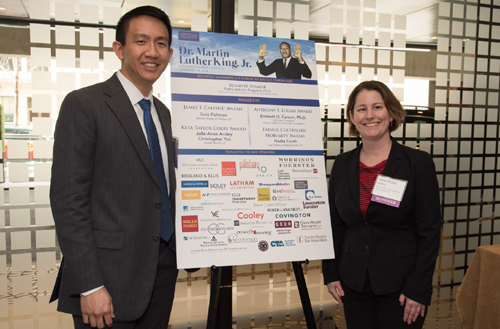 Christopher Yeh and Jolie-Anne Ansley
SAN FRANCISCO and LOS ANGELES, January 20, 2016—Duane Morris LLP is pleased to announce that Jolie-Anne S. Ansley, a partner in the firm's San Francisco office, and Christopher B. Yeh, an associate in the firm's Los Angeles office, were named Keta Taylor Colby Award recipients by the Lawyers' Committee for Civil Rights of the San Francisco Bay Area (LCCR). The Colby Award recognizes pro bono attorneys who have provided outstanding representation to poor and underrepresented people through the LCCR's Second Chance Legal Clinic. Ansley and Yeh will be honored at the organization's 29th annual Dr. Martin Luther King, Jr. Awards Luncheon on January 28, 2016.
Ansley and Yeh are being recognized for their work representing a low-income client who was trapped in a cycle of poverty due to a suspended driver's license. Because of his limited income, the client was not able to pay his parking ticket fines and fees, leading to the suspension. Without a valid driver's license, he was unable to accept a job offer and, thus, could not pay the fines to have his license reinstated. Ansley and Yeh used a little-known procedure offered by the San Francisco County courts that reinstated their client's license while putting him on a monthly payment plan. The LCCR has advocated for reform of license suspension policies around the country, citing the policies' disparate economic impact on poor and working-class people.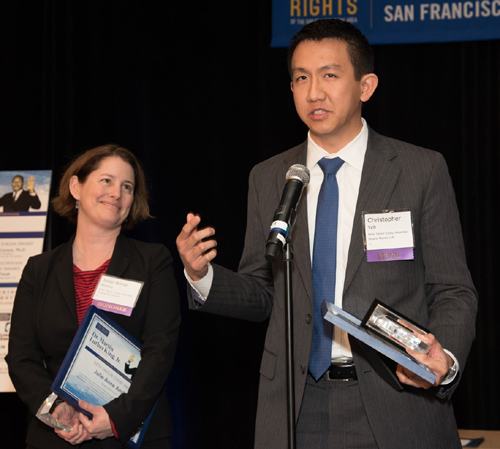 Christopher Yeh gives remarks as Jolie-Anne Ansley looks on
Ansley focuses her practice on environmental, water and energy law, representing clients in both judicial and administrative proceedings. She has represented both public entities and private clients in a variety of environmental matters. Ansley represents clients in both litigation and regulatory compliance, including the California Environmental Quality Act; National Environmental Policy Act; Endangered Species Act; Clean Water Act, Comprehensive Environmental Response, Compensation, and Liability Act of 1980; and Resource Conservation and Recovery Act. In addition, she represents clients before the California Public Utilities Commission and the State Water Resources Control Board/Regional Water Quality Control Boards. With her background in complex litigation, Ansley has experience representing both plaintiffs and defendants in a broad array of matters, including complex business disputes, insurance coverage actions and bankruptcy proceedings.
Ansley is a 2002 magna cum laude graduate of the University of California, Hastings College of the Law, where she was a member of the Hastings Law Journal. She is a graduate of the University of California, Berkeley (M.S., Wildland Resource Science) and the University of Michigan (B.S., Resource Ecology and Management).
Yeh is a trial lawyer focusing on complex business and intellectual property disputes in state and federal courts. Utilizing his experience in intellectual property, contract, business tort and insurance law, Yeh has litigated business disputes at the trial and appellate levels on a wide array of matters, such as breach of contract, patent, trade secret, unfair competition, insurance bad faith and cyber law for several Fortune 500 companies. He also advises small businesses and startups on contract, corporate and intellectual property matters. Yeh is a member of the firm's Pro Bono Committee, and was the recipient of the firm's prestigious 2014 Duane Morris Pro Bono Award. He is also a member of the Pro Bono Advisory Committee for Asian Americans Advancing Justice – Los Angeles.
Yeh is a 2008 graduate of the University of California, Berkeley School of Law, where he was an editor for the California Law Review, articles editor and publishing editor for the Berkeley Technology Law Journal and a member of the Asian American Law Journal. He is a summa cum laude graduate of the University of California, Los Angeles, where he was elected to Phi Beta Kappa.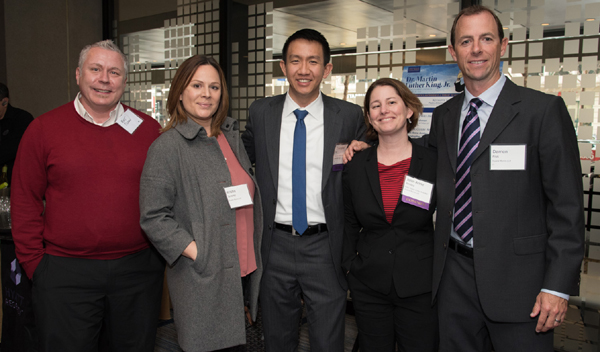 The Pro Bono team, Matthew Ogden, Kristin Jerome, Chris Yeh, Jolie-Anne Ansley, and Damon Fisk
About Duane Morris
Duane Morris LLP, a law firm with more than 750 attorneys in offices across the United States and internationally, is asked by a broad array of clients to provide innovative solutions to today's legal and business challenges.
About the Duane Morris Pro Bono Program
Duane Morris' Pro Bono Program provides free legal services to those in our communities least able to afford them. In 2015, the firm provided more than 22,000 hours of pro bono service through its U.S. and international offices. The importance of pro bono work and volunteerism has been an integral part of Duane Morris' culture since the firm's inception more than 100 years ago.