Duane Morris IP Chair Lewis Gould Joins World IP Review Editorial Board
July 22, 2011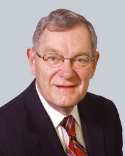 PHILADELPHIA, July 22, 2011—Duane Morris partner Lewis F. Gould, Jr., chair of the firm's Intellectual Property (IP) Practice Group, has been selected to join the World Intellectual Property Review (WIPR) editorial board. WIPR is a bimonthly magazine published in the U.K. aimed at professionals involved in the management and protection of IP assets.
Gould chairs the IP practice at Duane Morris, which has been recognized as one of the leading IP practices in the United States. National publications, such as Intellectual Property Today, IP Law & Business, IP Law Bulletin and IP Law360, have all ranked the firm among the leading law firms handling patents, trademarks, copyrights and related IP litigation.
For more than 40 years, Gould has focused his practice on intellectual property law, with emphasis on domestic and international patent and trademark matters. He advises clients on a broad spectrum of patent and related issues in a variety of technologies as well as in trademark and copyright matters that include clearance, registration and litigation. He also manages patent and trademark litigation before the U.S. Patent and Trademark Office and in U.S. federal courts.
Gould was counsel for the petitioners in the Markman case, a landmark patent case in which the U.S. Supreme Court held that the Seventh Amendment does not guarantee the right to a jury trial in disputes about the meaning of terms in a patent claim. He was also counsel to the respondent in College Savings Bank v. Florida Prepaid Postsecondary Education Expense Board, in which the U.S. Supreme Court held unconstitutional the Trademark Remedy Clarification Act of 1992—which abrogated states' Eleventh Amendment immunity from suits brought against them for alleged violation of the Lanham Act.
Gould is a graduate of Pennsylvania State University's Dickinson School of Law, and he received his undergraduate degree from Temple University, where he serves as a member of the board of trustees.
About the World Intellectual Property Review
The World IP Review's bimonthly edition is dedicated to the needs of professionals involved in the management and protection of IP assets. It informs and educates IP owners and their international legal counsel and consultants of the latest strategies for managing, protecting and profiting from their increasingly valuable intellectual property.
About Duane Morris LLP
Duane Morris LLP, a full-service law firm with more than 700 attorneys in 24 offices in the United States and internationally, offers innovative solutions to the legal and business challenges presented by today's evolving global markets.