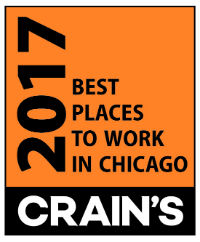 CHICAGO, April 17, 2017—Duane Morris LLP is pleased to announce that the firm has been named a 2017 "Best Place to Work" by Crain's Chicago Business. The only law firm included on the list, Duane Morris was singled out for its formal mentoring program for associates, flexible work arrangements and culture of inclusiveness. In 2016, the Chicago office was named a "Best Place to Work for Women Over 35."
"We are excited to be named a top place to work in Chicago by our employees for the second time," said David Yelin, Managing Partner of the Duane Morris Chicago office. "As a firm, we are committed to the success of our attorneys and staff; it's an honor to see our efforts are making a positive difference."
This year, 147 Chicago-area companies were doubly surveyed, with a total of more than 14,900 local employees. The employer survey focused on quantitative issues concerning compensation, promotions, health care and other benefits and hiring practices. The employee survey dealt with fairness of compensation, vacation time, relationships with management and co-workers, career development, culture and other day-to-day workplace issues. The surveys were administered by Conduent HR Services.
The other companies named to the list included: Microsoft; Clune Construction; Neighborhood Loans; DMC; Braintree; Stratosphere Networks; DigitasLBi; Assurance Agency; Radio Flyer; Grant Thornton; Weber Shandwick; Horizon Pharma; SAP/Fieldglass; Accenture; Burwood Group; DialogTech; LaSalle Network; Arco/Murray National Construction; Point B; Resolution Media; Clarity Consulting; AArete; Baker Tilly Virchow Krause; and StratEx Partners.
Other Duane Morris offices have been recognized in recent years for being among the best places to work. Philly.com, the website affiliated with The Philadelphia Inquirer and Philadelphia Daily News, named the Philadelphia office as a "Top Workplace" in 2016 and 2017. The firm's Cherry Hill and Newark, N.J. offices were named Best Places to Work in New Jersey by NJBIZ in 2012 and 2013. In 2010, Crain's Chicago Business named the firm's Chicago office a Best Place to Work.
About the Duane Morris Chicago Office
Duane Morris' Chicago office offers a wide array of services to clients throughout the United States and internationally. Attorneys in Chicago work closely with their colleagues in the firm's other offices nationally and internationally in a wide range of areas, such as complex litigation and alternative dispute resolution; white-collar criminal litigation; corporate securities, mergers and acquisitions; complex financial transactions, banking and financial services; financial markets; private equity and venture capital; business reorganization and financial restructuring; health law; insurance and reinsurance; products liability; toxic torts and public safety; energy, environment and resources; international trade; intellectual property; employment and immigration law; real estate; information technology and telecommunications; and construction.
About Duane Morris
Duane Morris LLP provides innovative solutions to today's multifaceted legal and business challenges through the collegial and collaborative culture of its more than 750 attorneys in offices across the United States and internationally. The firm represents a broad array of clients, spanning all major practices and industries.