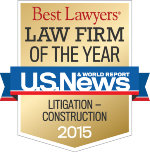 Washington, D.C., November 1, 2014—Duane Morris' Litigation-Construction practice received a preeminent ranking in the U.S. News-Best Lawyers 2015 Best Law Firms results released today: the selection as Law Firm of the Year for Litigation-Construction. Duane Morris was honored as Law Firm of the Year for Construction Law in 2013 and 2014.
Only one law firm is recognized as the 2015 Law Firm of the Year per practice group. According to U.S. News-Best Lawyers, Duane Morris received this designation for Litigation-Construction due to its impressive overall performance.
U.S. News-Best Lawyers has ranked the Construction Group in its top-tier national rankings and regional rankings since the survey's inception. The firm was awarded with top-tier national recognition in Litigation-Construction and Construction Law, as well as many other practice areas, in the 2015 rankings. The Construction Group was ranked in the first tier in Boston, Chicago, New York, Philadelphia and Pittsburgh, demonstrating the firm's geographical range and strength. Meanwhile, Chambers USA consistently ranks the group among national leaders in construction law. The practice has repeatedly been shortlisted for the Chambers USA Awards for Excellence.
In addition to Litigation-Construction, Duane Morris received top-tier national rankings from U.S. News-Best Lawyers in Appellate Practice, Banking and Finance Law, Bankruptcy and Creditor Debtor Rights/Insolvency and Reorganization Law, Construction Law, Corporate Law, Equipment Finance Law, Health Care Law, Immigration Law, Insurance Law, Litigation-Bankruptcy, Litigation-Intellectual Property, Patent Law and Venture Capital Law.
About Duane Morris
Duane Morris LLP, a law firm with more than 700 attorneys in offices across the United States and internationally, is asked by a broad array of clients to provide innovative solutions to today's legal and business challenges.