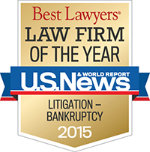 Washington, D.C., November 3, 2014—Duane Morris' Litigation-Bankruptcy practice received a preeminent ranking in the U.S. News-Best Lawyers 2015 Best Law Firms results released today: the selection as Law Firm of the Year for Litigation-Bankruptcy. Duane Morris was also honored as Law Firm of the Year for Litigation-Construction this year.
Only one law firm is recognized as the 2015 Law Firm of the Year per practice group. According to U.S. News-Best Lawyers, the firm received this designation for Litigation-Bankruptcy due to its impressive overall performance. In addition to this honor, Duane Morris is consistently ranked by The Deal as the most active bankruptcy practice in the United States. No firm handles more cases than Duane Morris (Active cases involve an estimated $952.9 billion in liabilities. Q3 2014).
In addition to Litigation-Bankruptcy, Duane Morris received top-tier national rankings from U.S. News-Best Lawyers in Appellate Practice, Banking and Finance Law, Bankruptcy and Creditor Debtor Rights/Insolvency and Reorganization Law, Construction Law, Corporate Law, Equipment Finance Law, Health Care Law, Immigration Law, Insurance Law, Litigation-Bankruptcy, Litigation-Intellectual Property, Patent Law and Venture Capital Law.
About Duane Morris
Duane Morris LLP, a law firm with more than 700 attorneys in offices across the United States and internationally, is asked by a broad array of clients to provide innovative situations to today's legal and business challenges.