Duane Morris Partner Cyndie Chang Elected to National Asian Pacific American Bar Association Board of Governors for 2012–2013
Press Release
November 8, 2012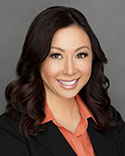 LOS ANGELES, November 8, 2012—Duane Morris partner Cyndie M. Chang of the firm's Los Angeles office has been elected secretary of the National Asian Pacific American Bar Association's (NAPABA) board of governors for the 2012–2013 board year. The newly elected officers will be sworn in at NAPABA's Installation Banquet on November 17, during the 24th Annual NAPABA Convention in Washington, D.C.
Chang has been the regional governor of NAPABA for the Central District, Los Angeles, which encompasses 10 minority interest bar organizations. She is also the president-elect of the Southern California Chinese Lawyers Association. Chang participated in the American Bar Association's (ABA) Tort Trial & Insurance Practice Section (TIPS) 2010 Leadership Academy, and has been appointed as the vice-chair of the ABA-TIPS Business Litigation Committee and a member of the Standing Committee on Diversity in the Profession.
Chang is the pro bono coordinator for Duane Morris' Los Angeles office and is a Fellow to the Leadership Council on Legal Diversity. In the community, she serves on the board of directors for the Asian Pacific Community Fund, a nonprofit organization that supports Asian Pacific Islander communities in need and generates funding for 29 affiliate agencies in Southern California. Chang is a graduate of Loyola Law School and Johns Hopkins University.
Chang litigates complex business and commercial disputes involving contracts, unfair competition, trademarks, trade secrets, products liability, entertainment and real estate law. She is a licensed California real estate broker. In addition, Chang has handled insurance matters involving multimillion-dollar environmental, asbestos and toxic tort long-term loss claims. She has represented many businesses, including Fortune 500 companies, and has obtained favorable results in trial and arbitration.
About the National Asian Pacific American Bar Association (NAPABA)
NAPABA is the national association of Asian Pacific American attorneys, judges, law professors and law students, representing the interests of more than 40,000 attorneys and 63 local Asian Pacific American bar associations. Its members represent solo practitioners, large firm lawyers, corporate counsel, legal service and nonprofit attorneys, and lawyers serving at all levels of government.
About Duane Morris
Duane Morris LLP, a global law firm with more than 700 attorneys in offices across the United States and around the world, is asked by a broad array of clients to provide innovative solutions to today's legal and business challenges. Duane Morris manages its diversity and inclusion program with the objective of utilizing the best talent worldwide in solving legal problems. The firm recruits a diverse pool of lawyers that collectively possess an awareness of cutting-edge 21st century issues—legal, social and economic—for which clients require solutions. For information about Duane Morris' diversity and inclusion program, please visit //www.duanemorris.com/site/diversity.html.