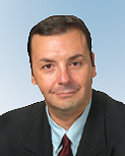 Hector A. Chichoni
Duane Morris partner Hector A. Chichoni has been named a distinguished leader in the Daily Business Review's annual Florida Legal Awards, which recognize professional excellence in the legal community in various areas of the law. He will be honored at an event slated to be held in-person on May 19 at the JW Marriott Marquis, at 255 Biscayne Boulevard Way in Miami.
Mr. Chichoni practices in the area of U.S. and global immigration law and is the chair of the firm's Immigration Practice in Florida. Mr. Chichoni represents corporate and individual clients, including healthcare organizations, Fortune 100 and Fortune 500 companies, multinational corporations and universities, doctors, professors, researchers and students. He handles international matters and business transactions and has represented clients in a wide variety of cases before the U.S. Immigration Court. Mr. Chichoni is also a member of Duane Morris' Cuba Business Group.
For more information, please visit the DBR website.