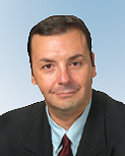 Hector A. Chichoni
Duane Morris partner Hector A. Chichoni has been named a distinguished leader in the Daily Business Review's annual Florida Legal Awards, which recognize professional excellence in the legal community in various areas of the law. He will be honored at an event slated to be held in-person on May 19 at the JW Marriott Marquis, at 255 Biscayne Boulevard Way in Miami.
Mr. Chichoni practices in the area of U.S. and global immigration law and is the chair of the firm's Immigration Practice in Florida. Mr. Chichoni represents corporate and individual clients, including healthcare organizations, Fortune 100 and Fortune 500 companies, multinational corporations and universities, doctors, professors, researchers and students. He handles international matters and business transactions and has represented clients in a wide variety of cases before the U.S. Immigration Court. Mr. Chichoni is also a member of Duane Morris' Cuba Business Group.
From the publication:
Hector Chichoni, a partner at Duane Morris' employment, labor, benefits and immigration practice group, has made it his mission to bake multiculturalism and gender equality into his firm's core values.
Chichoni has dedicated hundreds of pro bono hours to minority citizens and non-citizens on immigration cases, often arguing before the Immigration Board of Appeals on behalf of foreign nationals detained at ICE Processing Service Centers.
Many at Duane Morris consider Chichoni a key mentor.

"Hector has made such a valuable impact not only in our firm but for the city of Miami," Chichoni's nominator said. "He has spent countless hours helping others and fighting for the greater good to make our society better and the world continue to evolve."
The attorney has also served on the Board of the Cincinnati Hispanic Chamber of Commerce, provided pro bono services for low income members of the community, and is an active member of the Brazilian American Chamber of Commerce in Miami. As chair of the J. Reuben Clark Law Society in Miami, he assisted in pro bono activities for low-income clients.
For more information, please visit the DBR website.