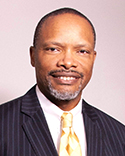 PHILADELPHIA, June 13, 2016—Duane Morris LLP partner John A. Nixon of the firm's Philadelphia office has been selected for membership to the Executive Leadership Council (ELC), the preeminent organization for the development of global African-American corporate leaders.
The ELC comprises more than 600 current and former black CEOs, board members and senior executives at Fortune 1000 and Global 500 companies, as well as entrepreneurs at top-tier firms. To be eligible for membership, candidates must meet one of the following criteria, in addition to identifying as African-American: a senior-level manager/executive within three levels from the enterprise-wide CEO of a Fortune 1,000/Global 500 corporation or equivalent with annual revenues of at least $1.2 billion; an executive serving on the board of directors of a Fortune 1,000/Global 500 corporation or equivalent; a senior-level manager/executive at a top-tier professional services firm or equivalent; or a recognized thought leader/senior-level academic leader.
Nixon practices in the area of employee benefits and executive compensation, counseling executives, plan sponsors and product providers in the design and operation of executive compensation, pension and retirement programs. He represents clients in a range of issues, including fiduciary duties; 409A and 457(f) compliance for nonqualified deferred compensation plans, supplemental executive retirement plans and executive employment agreements; federal tax issues applicable to government pension, defined contribution and 457(b) plans; tax qualification requirements under the Internal Revenue Code for employee retirement plans; equity and nonequity forms of executive compensation; and employer health, welfare and flexible benefits plans. Nixon also advises employers and fiduciaries in benefits litigation matters.
Nixon is a frequent lecturer, commentator and author on executive compensation and employee benefits issues. He currently serves as chair of the tax committee of the National Association of Public Pension Attorneys and has served on the Advisory Panel on Employee Benefits for the American Law Institute (ALI-CLE) Program Committee. Nixon is also a member of the standing faculty of the ALI-CLE course of study, "Retirement, Deferred Compensation and Welfare Plans of Tax-Exempt and Governmental Employees."
Nixon is a 1988 graduate of the University of Michigan Law School and a 1985 graduate of the Wharton School of the University of Pennsylvania.
About Duane Morris
Duane Morris LLP provides innovative solutions to today's multifaceted legal and business challenges through the collegial and collaborative culture of its more than 750 attorneys in offices across the United States and internationally. The firm represents a broad array of clients, spanning all major practices and industries.