Duane Morris Partner Jonathan Segal Named "Outstanding HR Leader of 2013"
April 1, 2013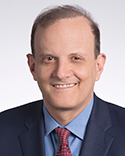 PHILADELPHIA, April 1, 2013—Duane Morris LLP is pleased to announce that Temple University's Fox School of Business and Management has named Duane Morris partner Jonathan Segal the recipient of its "Outstanding HR Leader of 2013" award. Segal, a partner in the firm's Employment, Labor, Benefits and Immigration Practice Group and the managing principal of the Duane Morris Institute, will accept the award at the Fox School's Human Resource Management (HRM) Awards Banquet on April 12, 2013.
The award recognizes an individual who promotes progressive HR practices and is committed to advancing the profession through educating current and future HR leaders. Segal is the first recipient.
"The Fox School has a sterling international reputation and the creation of this award recognizing the importance of the human resources field demonstrates their forward thinking," said Segal. "This is a tremendous honor, and I am humbled to receive it from an institution for which I have such great respect. I also would like to thank the Society for Human Resource Management (SHRM), from which I have learned a great deal and which always has welcomed and treated me as a peer with HR professionals."
Established in 1918, Temple University's Fox School of Business and Management has a distinguished tradition of preparing business leaders, professionals and entrepreneurs for successful careers. Today, it is the largest, most comprehensive business school in the greater Philadelphia region, and among the largest in the world with nearly 6,500 students, 180 full-time faculty and more than 59,000 alumni. Its programs continue to be ranked internationally and nationally by leading business publications and organizations such as the Financial Times, The Economist, U.S. News & World Report, Bloomberg Businessweek and The Princeton Review/Entrepreneur magazine.
Segal's practice focuses on preventive counseling, training and policy development, privileged audits, contracts, agreements and manuals, mergers and acquisitions, traditional labor and government investigations. He has served as a consultant to the Federal Judicial Center in Washington, D.C., providing training on employment issues to federal judges around the country, and provided training on harassment on behalf of the Equal Employment Opportunity Commission—including diversity training for members of the United States intelligence agencies. He is frequently a featured speaker at national, state and local human resource, business and legal conferences, which include conferences sponsored by the Society for Human Resource Management (SHRM); the Pennsylvania Chamber of Business and Industry; and the Association of Corporate Counsel (ACC). He has regularly been one of the top-rated speakers at numerous SHRM National Conferences, such as SHRM's Annual Conference, Diversity Conference and Employment Law and Legislative Conference. His blogs and social media communications are regularly cited as among the best-read in the industry.
About Duane Morris
Duane Morris LLP, a global law firm with more than 700 attorneys in offices across the United States and around the world, is asked by a broad array of clients to provide innovative solutions to today's legal and business challenges.
About Duane Morris Institute
The Duane Morris Institute offers seminars and webinars throughout the year, providing practical, useful training on the unique issues affecting business' greatest asset: its employees. Each semester as we move into a new business cycle, we aim to offer current, relevant topics ensuring your business is up-to-date and knowledgeable of the ever-changing landscape in the employment, labor, benefits and immigration areas of law. The Duane Morris Institute continues to offer new programs to provide professionals with the tools they need to succeed.