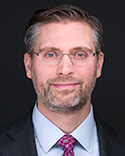 PHILADELPHIA, April 17, 2017—Duane Morris partner Robert M. Palumbos has been appointed vice chair of the Pennsylvania Supreme Court's Appellate Court Procedural Rules Committee. His new position will commence on June 30, 2017. Palumbos is currently serving a three-year term on the committee, which began on July 15, 2015. The committee's principal function is to make recommendations to the state Supreme Court for refining and updating the rules of appellate procedure in light of experience, case law and new legislation.
Palumbos, an experienced appellate lawyer, helps companies and entrepreneurs resolve complex legal issues in appellate and commercial litigation. He has a track record in more than 80 appeals of preserving trial court victories and reversing trial court losses. Palumbos has briefed and argued appeals in state and federal courts throughout the United States. His appellate work covers a wide range of legal areas, such as RICO, corporate governance, administrative agency law, real estate and insurance coverage.
In addition, Palumbos represents companies in complex commercial litigation. He handles high-stakes cases involving antitrust, securities and class actions, often resolving those cases early in the process before trial through strategic motions practice. His clients include leaders within the internet, venture capital investment, software and hardware design, pharmaceutical and financial services industries.
Palumbos is a 2005 magna cum laude graduate of the University of Pennsylvania Law School and a former editor of the University of Pennsylvania Law Review. He is also a graduate of Johns Hopkins University (M.A., B.A.), where he was elected to Phi Beta Kappa. Before entering private practice, Palumbos was a judicial clerk to the Honorable Marjorie O. Rendell of the U.S. Court of Appeals for the Third Circuit. He is chair of the firm's Philadelphia Office Inclusion Committee.
About the Appellate Court Procedural Rules Committee
The Appellate Court Procedural Rules Committee was created by order of the Pennsylvania Supreme Court in 1973. In addition to making recommendations to the court regarding appellate procedure, the committee responds to appropriate inquiries and suggestions made by lawyers, trial and appellate judges and justices, court officials and personnel, and the public. The committee also receives and responds to requests from the state Supreme Court—either directly or through suggestions in cases—to address issues of particular interest to the court. Kevin McKeon currently serves as chair, and he will be succeeded by Commonwealth Court Judge Patricia A. McCullough on June 30th.
About Duane Morris
Duane Morris LLP provides innovative solutions to today's multifaceted legal and business challenges through the collegial and collaborative culture of its more than 750 attorneys in offices across the United States and internationally. The firm represents a broad array of clients, spanning all major practices and industries.