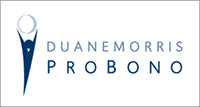 MIAMI and BOCA RATON, Fla., January 19, 2016—Duane Morris LLP is pleased to announce that it has been honored with the Supreme Court of Florida Chief Justice's Law Firm Commendation Pro Bono Service Award for 2016. The annual award recognizes a law firm that has contributed significant hours and effort to pro bono legal services to individuals or groups that cannot otherwise afford those services and shows an extraordinary commitment to provide access to the courts for all Floridians. The firm will be recognized at a special ceremony on January 28, 2016, at the Supreme Court Building in Tallahassee, Fla.
"I am very pleased with the growth and development of our Pro Bono Program and on behalf of the firm very proud to see it being recognized in this way," said John J. Soroko, Chairman and CEO of Duane Morris. "We have become a major contributor of legal services to some really outstanding causes and legal services organizations in Florida and nationwide."
"We are honored to receive such a prestigious award," said Harvey W. Gurland, Jr., managing partner of Duane Morris' Miami and Boca Raton offices. "Our commitment to pro bono is an integral part of our culture—both in Florida and firmwide. It is not just the partners and associates in our Florida offices who participate. Our paralegals and legal assistants also participate so that it is truly a group effort serving the community."
"Duane Morris is the epitome of what every law firm should be—generous, stand-up lawyers who do not perform pro bono work for fame or recognition, but simply because it is the right thing to do," said Karen J. Ladis, executive director of Dade Legal Aid. "Each year, the firm becomes more engaged in helping the less fortunate members of our community by diversifying their community service projects and donations of their time and talents. They are extremely deserving of this recognition."
The Duane Morris offices in Miami and Boca Raton provide pro bono legal services to members of the Florida community who are in need. Representative pro bono cases in the Florida offices include:
For the past several years, numerous attorneys have represented youth in special immigrant juvenile status and deferred action for childhood arrival (DACA) proceedings. In one example, attorneys represented 14- and 17-year-old brothers from Honduras, who came through Mexico to escape local gangs that were repeatedly robbing and assaulting the older brother. Our attorneys represented the brothers in applications before the Florida Family Court, United States Citizenship and Immigration Services and Executive Office for Immigration Review, resulting in approval of their applications for Special Immigrant Juvenile Status and their removal proceedings terminated.
Attorneys assisted an existing pro bono client in saving her 15-year-old daughter from sex traffickers in Mexico. With help from Mexican authorities, the girl was rescued and returned to the custody of her mother. While the client and her daughter were temporarily safeguarded in a shelter operated by Mexican authorities, the team successfully petitioned U.S. Immigration and Customs Enforcement for Humanitarian Parole, allowing the daughter to travel to the U.S. with her mother.
Attorneys and staff visited the Krome Immigration Detention Center in Miami to investigate whether the center is meeting the Department of Homeland Security detention standards for immigration facilities. The group is currently working on a written report detailing the results of their findings, to be submitted to and studied by the American Bar Association.
Attorneys aided survivors of commercial sexual exploitation in vacating criminal convictions related to their trafficking in the firm's Miami, Boca Raton, New York, Chicago, Philadelphia, Atlanta and Boston offices. Working in cross-office and cross-practice group teams, attorneys aided survivors now living in these jurisdictions in clearing their records in New York, Illinois and Pennsylvania. Attorneys also assisted survivors seeking restitution and/or damages against their traffickers in New York, and attorneys in Boca Raton are actively advocating for Florida's enactment of a similar safe harbor law, providing services and criminal protection to trafficking survivors in Florida.
Intellectual property attorneys provided pro bono aid to many South Florida nonprofit organizations, helping those organizations to register, protect and defend trademarks and copyrighted materials.
Duane Morris' Miami and Boca Raton offices assisted with Dade Legal Aid Volunteer Lawyers Assist Artists program, including a Legal Clinic for Creatives. Through the clinic, attorneys provided legal advice and assistance to artists with corporate and intellectual property issues.
About Duane Morris
Duane Morris LLP, a law firm with more than 750 attorneys in offices across the United States and internationally, is asked by a broad array of clients to provide innovative solutions to today's legal and business challenges.
About the Duane Morris Pro Bono Program
Duane Morris' Pro Bono Program provides free legal services to those in our communities least able to afford them. In 2015, the firm provided more than 22,000 hours of pro bono service through its U.S. and international offices. The importance of pro bono work and volunteerism has been an integral part of Duane Morris' culture since the firm's inception more than 100 years ago.