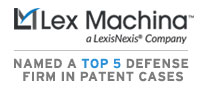 Duane Morris is a top five defense law firm in patent cases, according to Lex Machina's "Patent Litigation Year in Review 2017" report. The ranking is based on the number of cases filed in 2017.
About Duane Morris' Patents Practice
Duane Morris patent litigators combine mastery in trial advocacy, an in-depth knowledge of patent law, an aptitude for science and technology, and a focus on our clients' business objectives. We represent clients in defending against claims of patent infringement, enforcing their patents, and handling disputes concerning inventorship and ownership of patents. Our lawyers represent clients in patent disputes involving a wide variety of complex technologies, including biotechnology processes and products, pharmaceuticals (including ANDA-related litigation), medical devices, business systems and methods, computer systems and software, consumer products, chemical processes and products, electronic instruments, manufacturing processes and equipment, security and monitoring equipment, telecommunications equipment, and water treatment and purification systems, to name a few. Our attorneys' combination of extensive trial experience as lead counsel in litigation before state and federal courts, as well as unique trial experience within the U.S. Patent and Trademark Office, can help clients take advantage of, and respond to, inter partes review (IPR).