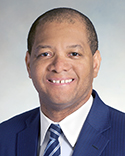 N. Gordon Knox
BALTIMORE, January 21, 2020—N. Gordon Knox has joined Duane Morris LLP as a partner in the firm's Real Estate Practice Group in its Baltimore office. Prior to joining Duane Morris, Knox was a principal at Miles & Stockbridge P.C.
"Gordon brings deep real estate experience and adds to our transactional capabilities in our Baltimore office," said Matthew A. Taylor, CEO and Chairman of Duane Morris. "Our clients will benefit from his commitment to superior client service and team work, which are hallmarks of our firm's collegial and collaborative culture."
"Gordon is a highly skilled lawyer with extensive experience that will be a benefit to our clients," said George J. Kroculick, co-chair of the Real Estate Practice Group. "We're excited to welcome him to the firm to expand our Real Estate practice and to see him expand his practice on our platform," added Chester P. Lee, co-chair of the Real Estate Practice Group.
"Gordon will be a great addition to our office and will help the firm grow our Real Estate and Finance practices in Baltimore, Washington, D.C., and the Mid-Atlantic region," said Robert B. Hopkins, managing partner of the Duane Morris Baltimore office.=
Knox focuses his practice on complex commercial, real estate and corporate transactions. He handles all aspects of tax-exempt financings, commercial financings and affordable housing development financings. In the public finance area, Knox has extensive experience serving as bond counsel and counsel to issuers, bond purchasers and trustees. He represents national, regional and community banks and other financial institutions in structuring, negotiating and documenting transactions involving New Markets Tax Credits, construction loans, letters of credit, equipment leases and commercial loans secured by real estate and/or personal property. Knox advises lenders in connection with troubled credits and has extensive experience in documenting and negotiating forbearance agreements and restructuring credit facilities. He also serves as counsel to business owners and real estate developers.
Knox is a graduate of the University of Maryland School of Law (J.D., 1998), the American University in Cairo (M.A., 1993) and the College of William & Mary (A.B., 1990).
About Duane Morris
Duane Morris LLP provides innovative solutions to today's multifaceted legal and business challenges through the collegial and collaborative culture of its more than 800 attorneys in offices across the United States and internationally. The firm represents a broad array of clients, spanning all major practices and industries.