Duane Morris Welcomes Trial Partner Steve Nichol in London
January 2, 2020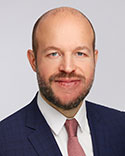 Steve Nichol
LONDON, 2 January 2020—Duane Morris LLP announced today that Steve Nichol has joined as a partner in the firm's Trial Practice Group in the Duane Morris London office. Nichol enhances the firm's global construction litigation capabilities. Prior to joining Duane Morris, Nichol was partner at Trowers & Hamlins LLP.
"We're excited to have Steve join the firm," said Matthew A. Taylor, CEO and Chairman of Duane Morris. "He is a strong litigator and will be a great addition to our robust construction practice and expanding London office."
"Steve is a great match for our firm and practice," said Mark A. Canizio, chair of the Construction Group. "His addition is a strategic build out of our international practice to better meet the needs of our clients."
"Steve is a welcome addition to our office," said London office co-managing partner Susan A. Laws. "His personality and dedication to client service are a great match for the office and the firm as a whole," added London office co-managing partner Alex Geisler.
Nichol's practice is focused on the construction and engineering sector. He has extensive experience of advising clients on domestic and international projects of varying size and complexity across a broad range of industry sectors, with a particular focus on transport, infrastructure, energy and building. Nichol's clients cover the full range of industry professionals, from niche suppliers and subcontractors to multinational developers, manufacturers and joint ventures, spanning the UK, U.S., Europe, the Middle East and further afield. He is endorsed by clients and fellow professionals alike for his ability to manage matters of high technical complexity, and has been particularly recommended for his work in the rail sector by The Legal 500.
About Duane Morris
Duane Morris provides innovative solutions to today's multifaceted legal and business challenges through the collegial and collaborative culture of its more than 800 attorneys in offices across the United States and internationally. The firm represents a broad array of clients, spanning all major practices and industries.