Duane Morris Partner Eduardo Ramos-Gómez Receives Buen Vecino Award from U.S.-Mexico Chamber of Commerce
November 4, 2014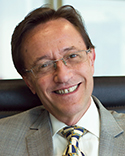 MEXICO CITY, November 4, 2014— Duane Morris LLP is pleased to announce that the United States-Mexico Chamber of Commerce (USMCOC) has honored Singapore-based partner Eduardo Ramos-Gómez with its prestigious Buen Vecino Award. The award recognizes public- and private-sector leaders for their vision and commitment to mutually beneficial relations between Mexico and the United States. Ramos-Gómez accepted the award at the chamber's Binational Conference and Buen Vecino Awards Gala, held on October 28–29 in Mexico City.
The U.S.-Mexico Chamber of Commerce is the leading binational business organization working to build and strengthen trade and investment relationships between the two countries. With strong local membership and international contacts, USMCOC chapters and offices help businesses bridge differences in legal, regulatory and economic systems, as well as language and culture. Each year, the organization bestows its Good Neighbor Awards, given in Washington, D.C., and Buen Vecino Awards to ministers, ambassadors, governors, members of Congress, former presidents, corporate CEOs, leaders of organizations and others who have made a noteworthy difference in U.S.-Mexico relations.
Notable past recipients of these awards include Enrique Peña Nieto, president of Mexico; Ronald Reagan, former U.S. president; Ben Bernanke, former chairman of the U.S. Federal Reserve; Bruno Ferrari, Mexico's former Secretary of the Economy; Eduardo Medina Mora, Mexico's ambassador to the United States; Ernesto Zedillo Ponce de León, former president of Mexico; Lee Raymond, former chairman and CEO of Exxon Mobil Corp.; and Ricardo Salinas, chairman of Grupo Salinas.
Ramos-Gómez is managing partner of Duane Morris' offices in Hanoi, Ho Chi Minh City and Singapore. He has practiced international and corporate law for more than 30 years, advising multinational and foreign companies in Asia, North America, Europe and Latin America on cross-border direct foreign investment, project development and project finance. He formerly served as Mexico's ambassador to Singapore, Negara Brunei Darussalam and the Union of Myanmar.
Ramos-Gómez is active in numerous international organizations. He is a member of the Commission on Globalization World Forum, a member of the Strategic Board of the Latin American Chamber of Commerce and president of the Northeast Chapter of the USMCOC. He also serves as vice chair of the Mexican Law Committee in the Section of International Law and Practice for the American Bar Association and is chapter chair of the International Division of International Law and Practice Section of the New York State Bar Association. He also heads the Mexican and Latin America desk for the firm.
Ramos-Gómez is a graduate of the Escuela Libre de Derecho in Mexico City and a graduate of the University of Virginia (LL.M.).
About Duane Morris
Duane Morris LLP, a law firm with more than 700 attorneys in offices across the United States and internationally, is asked by a broad array of clients to provide innovative solutions to today's legal and business challenges.