Karen Chuang Kline, partner in the Boca Raton office, has been recognized with the Florida Bar President's Pro Bono Service Award for the 15th Judicial Circuit. The annual Pro Bono Service Awards recognize outstanding commitment to providing legal services to those in our communities least able to afford legal services, including small nonprofit charitable organizations and low-income individuals. Florida Bar President Michelle Suskauer presented the 2019 awards at the Florida Supreme Court on February 7.
Ms. Kline practices in intellectual property (IP) law, including trademark, patent and copyright procurement, enforcement and licensing. She counsels clients in all aspects of their domestic and international IP portfolios and assists clients in technology-related transactional matters, including technology and brand licensing, development, consulting and service agreements.
Ms. Kline has served on the firm's Pro Bono Committee since 2014, and has worked to increase pro bono participation within her office and the firm. She has also worked with numerous pro bono clients to provide IP counseling, seek registration of trademarks and copyrights, and assist in the licensing or enforcement of their IP rights. Groups she has assisted include the NOPE Task Force (Narcotics Overdose Prevention & Education), Sparkling Life (which encourages healthy living through exercise), Alliance for Kids (providing emotional support programs for hospitalized children), the Children's Healing Institute (providing resources and support to parents of premature infants) and VFR Foundation (seeking to assist veterans and first responders). Through Empowering Women in Technology Startups, Ms. Kline has also provided IP advice to women as they launch new businesses and develop new technology.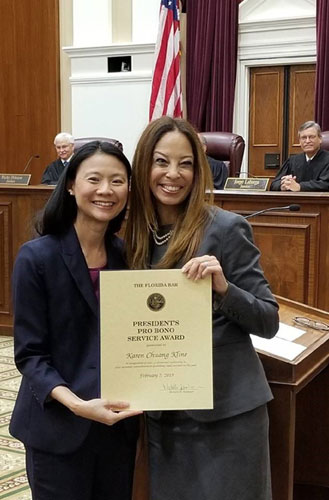 Karen Kline with Florida Bar President Michelle Suskauer at the awards ceremony.