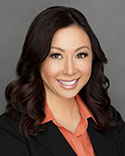 LOS ANGELES, January 24, 2018—The Los Angeles Business Journal recognized Duane Morris Los Angeles Managing Partner Cyndie Chang as one of the 50 Most Influential Minority Attorneys, citing her extensive litigation experience and leadership within the firm and in the legal community.
Ms. Chang litigates complex business, class action, and commercial disputes involving products liability, contracts, the Consumer Legal Remedies Act (CLRA), construction defect, mass torts, unfair competition, trademarks, trade secrets, the Americans with Disabilities Act (ADA), California Proposition 65, broker disputes, employment and real estate law. Further, she has litigated various kinds of insurance coverage issues, including multimillion-dollar environmental, asbestos, toxic tort and long tail liability claims, as well as subrogation, contribution, bad faith and reinsurance disputes. In addition, she has counseled insurers on complicated claims management and coverage issues involving first party and third party claims. Her services have spanned various industries, including fashion, retail, and consumer goods, manufacturing, utilities, and telecommunications.
Her service to the bar includes service as President of NAPABA for the 2016-2017 term, with previous service as its President-Elect, Vice-President of Communications, Secretary and Regional Governor for the Central District, which encompassed over ten minority interest bar organizations in Southern California. NAPABA is the national voice for the Asian American legal profession and represents the interests of over 50,000 Asian American lawyers and over 75 national, state, and local bar associations. She is also the Past President of the Southern California Chinese Lawyers Association ("SCCLA"), one of the oldest and largest Asian-American bar associations in the country. Ms. Chang has also participated in the American Bar Association's Tort Trial & Insurance Practice Section ("TIPS") 2010 Leadership Academy, selected with a group of approximately 20 lawyers in the nation identified to be emerging bar leaders. Further, Ms. Chang was appointed as the Vice-Chair of the ABA-TIPS Business Litigation Committee. In addition, she was her firm's office Pro Bono Coordinator and an inaugural Fellow to the Leadership Council on Legal Diversity ("LCLD"), a dynamic leadership training program comprised of high-potential attorneys from major law firms and corporations in the country. Ms. Chang has also served as a board member of the Asian Pacific American Bar Association of Los Angeles ("APABA") and an appointed member of the ABA's Center for Human Rights Advisory Council and the ABA-TIPS Standing Committee on Diversity in the Profession. She is an elected member of the Chancery Club (one of Los Angeles' association of distinguished lawyers who have held position of honor and responsibility in legal, judicial, academic, governmental and civic organizations). She is also a proud lifetime member of SCCLA and APAWLA, as well as continuing member of NAWL.
She has been honored by Best Lawyers Magazine, Spring Edition 2016, as one of 15 women in the legal profession leading the charge for achievements in the practice and policy, on both local and national levels. She was also recognized by the Daily Journal as one of the 2014 Top 100 Women Lawyers in California. The award honors 100 women lawyers whose extraordinary talent and experience are helping to shape industry and the law. In 2014-2018, she received the "Super Lawyer" distinction in the Super Lawyers Magazine, an honor limited to no more than 5% of attorneys in the state. From 2010 to 2013, she was named a "Rising Star" in Los Angeles Magazine's Super Lawyer Rising Star section, given to no more than 2.5 percent of attorneys in the state, and in 2012-2017 was listed in its The Top LA Women Lawyers. She is also AV® Preeminent™ Peer Review Rated by Martindale-Hubbell: The highest peer rating standard. This rating signifies that the lawyer's reviewed peers rank him or her at the highest level of professional excellence for their legal knowledge, communication skills and ethical standards. The Recorder named Ms. Chang a "2013 Lawyer on the Fast Track." Selections for the honor were based on attorneys' career achievements and leadership roles within their practice, organization and community. Ms. Chang was also named in the Lawyers of Color Inaugural Hot List, which honored 100 early-to-mid-career minority attorneys for excellence in the legal profession. In addition, Ms. Chang was named the National Asian Pacific American Bar Association ("NAPABA") 2010 "Best Lawyers under 40," awarded to 20 lawyers across the country.
Ms. Chang earned her law degree from Loyola Law School Los Angeles and is a graduate of Johns Hopkins University.