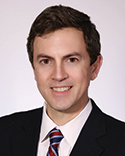 Luke McLoughlin
PHILADELPHIA, May 10, 2018—Duane Morris LLP partner Luke P. McLoughlin has been named to The Legal Intelligencer's 2018 Pennsylvania Lawyers on the Fast Track list. McLoughlin is one of an elite group of Fast Track recipients which will be profiled in a special supplement in the June 12 issue.
Nominees were evaluated by a five-member panel composed of members of the Pennsylvania legal community from across the state. Candidates were then selected based on their advancement to the development of law, representative client engagements, advocacy and community contributions, service to the bar, and peer and public recognitions.
McLoughlin is a partner in Duane Morris' Trial Practice Group and focuses his practice on complex litigation matters. He has significant experience representing clients in business disputes involving financial instruments, trade secrets, software and contracts.
McLoughlin represents financial institutions, corporate entities and individual clients in complex commercial litigation matters in federal and state courts throughout the United States. He has represented clients at all phases of litigation, including prelitigation counseling and investigation, discovery, motion practice, requests for injunctive relief and trial. In addition to his trial practice, he represents companies on appeal before federal and state courts, and advises clients in connection with business arrangements and transactions designed to avoid litigation and manage risk.
In 2016, McLoughlin received the Duane Morris Pro Bono Award for his work representing the National Veteran Small Business Coalition and numerous other national veterans' organizations and veteran-owned businesses as amici curiae before the U.S. Supreme Court in a case affecting billions of dollars of government contracts and thousands of veteran-owned small businesses.
McLoughlin is a graduate of New York University School of Law (J.D., magna cum laude, 2005) and Harvard University (A.B., magna cum laude, 2000).
An awards dinner will be held at the Crystal Tea Room on June 27 in Philadelphia.
About Duane Morris
Duane Morris LLP provides innovative solutions to today's multifaceted legal and business challenges through the collegial and collaborative culture of its more than 800 attorneys in offices across the United States and internationally. The firm represents a broad array of clients, spanning all major practices and industries.