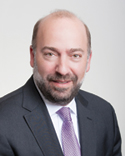 Paul Josephson
CHERRY HILL, N.J., December 6, 2017—Duane Morris LLP partner Paul Josephson has been named senior advisor to Transition2018, the transition committee of New Jersey Governor-Elect Philip D. Murphy, and as transition counsel. Josephson most recently served the governor-elect as counsel to his campaign.
"Having represented the governor-elect since he announced his candidacy, it is an honor to now assist him in the transition effort," Josephson said.
Josephson will assist transition staff in a comprehensive review of the more than 50 independent authorities, including:
New Jersey's gaming and related authorities: the Casino Control Commission, the Casino Reinvestment Development Authority (Atlantic City redevelopment and land use), and the New Jersey Sports and Exposition Authority (Meadowlands Complex and Monmouth Park)
New Jersey's four bi-state transportation authorities: the Port Authority of New York and New Jersey, the Delaware River Port Authority, Delaware River and Bay Authority, and the Delaware River Joint Toll Bridge Commission
New Jersey's transportation authorities: New Jersey Transit, the New Jersey Turnpike Authority, the South Jersey Transportation Authority, and the Motor Vehicle Commission.
New Jersey's economic development and financing authorities: the New Jersey Economic Development Authority, as well as authorities that finance health care, higher education, and K-12 school facilities.
"The independent authorities play a key role in New Jersey infrastructure, economic development, and gaming policy. They are responsible for some of the most visible government projects and services that residents and businesses count on. I look forward to helping the governor-elect assume responsibility for them."
A litigation and regulatory partner in Duane Morris' Trial Practice Group, Josephson previously served as chief counsel to the New Jersey Governor and as Director of the Division of Law for the New Jersey Office of Attorney General, where he oversaw the state's civil legal affairs. He also served as chief of authorities for the governor, overseeing the 50 bi-state and state authorities. During his state service, Josephson helped to merge the Turnpike and Garden State Parkway, fix New Jersey's broken electronic tolls and vehicle inspection systems, find innovative financing strategies for major infrastructure projects, and implement electronic voting and registration technologies.
Josephson presently serves as New Jersey co-chair of the Regional Plan Association, one of the nation's foremost planning organizations founded in 1929 to develop and promote long-range, region-wide master plans for the New York metropolitan region including New Jersey and Connecticut.
His private practice includes more than 25 years' experience in all aspects of the gaming industry and government procurement and regulation.
About Duane Morris
Duane Morris LLP provides innovative solutions to today's multifaceted legal and business challenges through the collegial and collaborative culture of its more than 750 attorneys in offices across the United States and internationally. The firm represents a broad array of clients, spanning all major practices and industries.