Duane Morris Story to Be Presented at Harvard Business School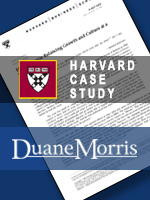 PHILADELPHIA, October 5, 2006 - Duane Morris LLP is pleased to announce that the Harvard Business School recently completed a case study of the firm. The study, entitled "Duane Morris: Balancing Growth and Culture at a Law Firm," will be presented in the 2006-2007 academic year in class as part of the Harvard Business School curriculum. It will be available to all business schools around the world for course study.
In 2005, Harvard Business School, Boris Groysberg, an assistant professor in the Organizational Behavior Unit, and his research associate Robin Abrahams expressed interest in creating a case study of Duane Morris as part of the university's well-respected Case Method. The Case Method introduces MBA students to in-depth studies of real businesses and challenges them to analyze and discuss the cases in class. Harvard Business School has published case studies of several of the most recognizable and successful corporations in the United States, including Google, Wal-Mart, Microsoft and Goldman Sachs.
Duane Morris Chairman Sheldon M. Bonovitz and other lawyers and senior staff in the firm engaged in extensive interviews with Groysberg to develop the study, providing financial data and historical information as well as participating in in-depth personal interviews.
"It's a great honor for Duane Morris to be part of the Harvard Business School curriculum," said Bonovitz, a graduate of Harvard Law School. "We are gratified that the Harvard Business School was interested in our story of growth and financial success, while we maintained our unique collegial culture." Bonovitz will join Groysberg as a Class Guest when Groysberg teaches the class during the current academic year.
In addition to information on the firm's corporate governance structure, business model and industry trends, the Duane Morris case study focuses on the firm's rapid growth during the past decade and the challenges it faces in maintaining its distinct corporate culture. The study notes that "there was a strong sense at Duane Morris that the firm's culture was a source of its strength. The firm valued a business-oriented focus, combined with collegiality and a non-territorial approach to clients."
The study also features excerpts from extensive interviews with practice group heads, office managing partners, and the firm's chief operating officer and chief marketing officer. It quotes partner Christopher Celentino, San Diego office managing partner: "We work to provide comfortable lives for our families. ... We insist on a pleasant office environment and rely on our courteous staff with a team spirit."
Looking to the future, Bonovitz states the firm's intent to remain full service and geographically diverse.
"Geographically, the firm hoped to move into more international work," a hope that the firm has plans to realize within the next several months. Duane Morris has announced its plans to open an office in Singapore, in addition to its current London presence.
A faculty member at Harvard Business School, Groysberg focuses his research on "the challenges of managing professional service firms," according to the Business School Web site. "By focusing on the performance of highly skilled professionals, his research contributes to the human capital theory, the theory of allocation of talent, the theory of labor market competition, and human research management studies. Groysberg has won, for two consecutive years, the Strategic Management Society Ph.D. Fellowship (Booz Allen Hamilton/SMS fellow) for his research on talent management." He holds a DBA in Business Policy from Harvard Business School and a bachelor's degree in accounting from New York University.
About Duane Morris
Duane Morris LLP, among the 100 largest law firms in the United States, is a full-service firm of more than 600 lawyers. In addition to legal services, Duane Morris has independent affiliates employing approximately 100 professionals engaged in other disciplines. With offices in major markets, and as part of an international network of independent law firms, Duane Morris represents clients across the nation and around the world.