Duane Morris' Sheila Hollis to Receive the Energy Bar Association's Paul E. Nordstrom Service Award
November 22, 2010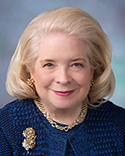 WASHINGTON, D.C., November 22, 2010—Duane Morris partner Sheila Slocum Hollis, chair of the firm's Washington, D.C. office and a member of its Energy, Environment and Resources Practice Group, has been selected by the Energy Bar Association (EBA) and the Charitable Foundation of the Energy Bar Association (CFEBA) to receive the Paul E. Nordstrom Service Award. It will be presented to Hollis at the CFEBA's Eighth Annual Fundraising Gala, "Empower By Giving," on December 9, in conjunction with the EBA's Mid-Year Meeting. The gala will be held at the Ronald Reagan Building and International Trade Center in Washington, D.C.
The award recognizes EBA members who demonstrate exemplary long-term service or a particularly significant example of public service to the community. To date, the honor has been awarded only once—to Paul Nordstrom himself, posthumously in 2008. Mr. Nordstrom was a former Energy Bar president and a motivating force in the establishment of the CFEBA. Prior to his death at age 53, Mr. Nordstrom was heavily engaged in a host of charitable endeavors and was widely respected among the energy and law communities. His widow, Dr. Kathleen Henry, will present the award to Hollis.
"Throughout my career, the Energy Bar has been a source of knowledge, friendship and opportunity," said Hollis. "Covering so many complex and fast-evolving concepts, the Energy Bar has been a font of good experiences. I am so privileged to be a part of the unique energy law community and honored to receive this award."
Hollis focuses her practice on domestic and international energy, water and environmental matters, representing governmental bodies and the power and natural gas industries. She has been a member of the EBA for more than 25 years. Hollis was the first woman president of the Federal Energy Bar Association, predecessor to the EBA, and was president of the Women's Council on Energy and Environment. In addition, she served as chair of the American Bar Association's (ABA) Section of Environment, Energy and Resources and as chair of the ABA Council of the Fund for Justice and Education. Hollis was the first director of the Federal Energy Regulatory Commission's Office of Enforcement and was twice a finalist for the Lifetime Achievement in Energy in Platt's Global Energy Awards.
Hollis is widely published in energy law and policy matters, having co-authored two energy law texts and numerous articles on energy policy, energy enforcement, natural gas, independent power and cogeneration, and hydroelectric energy regulation. She also taught on the topic of Energy Law for 20 years at George Washington University Law School.
About Duane Morris
Duane Morris LLP, a full-service law firm with more than 700 attorneys in 24 offices in the United States and internationally, offers innovative solutions to the legal and business challenges presented by today's evolving global markets.