Duane Morris Partner Sheila Slocum Hollis Appointed to Institute for the Advancement of the American Legal System Board of Advisors
June 13, 2013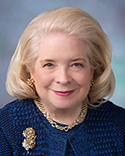 Washington, D.C., June 13, 2013—Duane Morris partner Sheila Slocum Hollis of the firm's Washington, D.C., office has been appointed to the board of advisors of the Institute for the Advancement of the American Legal System (IAALS), which is a national, independent research center at the University of Denver dedicated to continuous improvement of the process and culture of the civil justice system.
Hollis is chair of Duane Morris' Washington, D.C. office and serves on the firm's Executive Committee and Partners Board. Hollis practices in the areas of energy transactional and regulatory law and international and administrative law before government agencies, Congress and other entities. She focuses on domestic and international energy, water and environmental matters, representing governmental bodies and the power and natural gas industries. Hollis has served twice in federal service. She was the first director of the Office of Enforcement of the Federal Energy Regulatory Commission, establishing the office and its policies and procedures, serving from 1977 to 1980. Those policies and procedures remain in place today. She began her energy law career as a trial lawyer at the Federal Power Commission from 1974 to 1975, serving as lead counsel on the Pennzoil-United spinoff case. Over the course of her career, she has played a key role in the formation and implementation of energy law and policy.
Hollis was named one of the 50 Key Women in Energy Worldwide and received the 2011 Lifetime Achievement in Energy in Platt's Global Energy Awards. In late 2012, Hollis was elected to membership in the American College of Environmental Lawyers. In April 2012, she was awarded the Outstanding International Law Alumni Award by the Nanda Center for International Law and Policy of the Sturm College of Law at the University of Denver Law School and delivered a major address on international energy law at the award event. In 2010, Hollis received the Paul Nordstrom Service Award for her contributions to the legal profession and the community from the Energy Bar Association and the Charitable Foundation of the Energy Bar Association. She is the only person to serve as both president of the Federal Energy Bar Association and chair of the ABA Section of Environment, Energy and Resources. A Colorado native, she is a 1973 graduate of the University of Denver College of Law and a graduate of the University of Colorado at Boulder, cum laude in general studies, honors in journalism.
About Duane Morris
Duane Morris LLP, a law firm with more than 700 attorneys in offices across the United States and internationally, is asked by a broad array of clients to provide innovative solutions to today's legal and business challenges.