Alumni
Alumni Profiles - Adam Taliaferro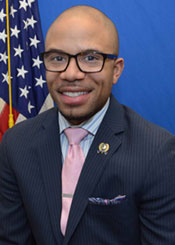 Adam Taliaferro
Adam Taliaferro was an associate in the Firm's Trial Practice Group in Cherry Hill from 2010 to 2012. Many will remember Adam from his incredible journey of recovery from a spinal injury during a football game that left him paralyzed. In this issue, Adam shares how his foundation is helping athletes facing similar tribulations, life as a public official and his memories of Duane Morris.
Q: Describe your present position, after leaving Duane Morris, as a policy analyst at Bristol-Myers Squibb.
At Bristol-Myers, I am responsible for evaluating state and federal legislative and regulatory policies and their potential impact on our business. The overall goal is to ensure the legislative/regulatory climate is conducive for patient access to pharmaceuticals.
Q: Outside of your work at Bristol-Myers Squibb, you serve as a New Jersey General Assemblyman. How did you get involved in politics?
I have lived in South Jersey my entire life, but about six years ago, I moved into the legislative district that is represented by the President of the New Jersey Senate, Stephen Sweeney. The Senate President and I developed a friendship and he became a mentor to me. We were having lunch one day and he asked about my interest in getting involved in public service. I was not initially interested, but after many conversations with him and learning about how you can truly help people, I began to take interest. I started out on the county school board and then served as a Freeholder for four years (similar to a county commissioner but in New Jersey we call them Freeholders). In 2015, I moved up to the New Jersey General Assembly.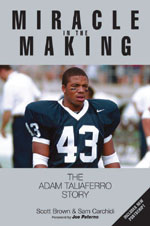 Adam Taliaferro
Q: What issues are particularly important to you while you are in public office?
We have many challenges facing the state of New Jersey. While all issues are important, two are at the top of my list … healthcare and education. I do not believe there is anything more important than access to quality healthcare and education. If you have your health and access to educational opportunities, I truly believe that creates the foundation for success.
Q: What is your fondest memory of working at Duane Morris?
By far my fondest memory of working at Duane Morris was the people I got to work with each day. I spent most of my time in the Cherry Hill office, and I will forever be thankful to Hersh Kozlov, Gil Brooks and Harvey Johnson for providing me an opportunity to join the office as a young associate. Specifically, I will always remember Gil Brooks' morning team meetings when he would bring our team of associates together to discuss case strategy and team assignments. During those meetings, we would have great legal conversations as well as lively discussion about life and current events. I had a wonderful time working with that team and I'm thankful for the lasting friendships that were developed during my time at Duane Morris.
Q: The Adam Taliaferro Foundation has helped countless individuals who have suffered life-altering injuries, as well as supported student athletes via scholarships. Are there any initiatives on the horizon?
The Foundation has been a huge blessing in my life. It was created back in 2001 to help those who sustained injuries similar to myself, and we really did not have many long-term expectations for the Foundation. To date, we have raised more than $1 million for patients and we continue to evaluate growth opportunities. Our two big annual fundraisers are a golf outing in October and a high school football all-star game in July. This past year, we signed a partnership agreement with Magee Rehabilitation Hospital in Philadelphia. We are truly excited to partner with Magee because it will allow the Foundation to broaden its outreach, and we will be adding new events throughout the year. We are currently in the planning phase with Magee to develop the long-range outlook for the Foundation. And I would be remiss if I did not thank Duane Morris for providing pro bono legal work to the Foundation. My Foundation is 100-percent volunteer, so the support of Duane Morris (and my friend Adam Berger in the Cherry Hill office) is greatly appreciated!
Q: What advice would you give to young people today?
The best advice I would give to today's youth is to better yourself each and every day. There are many distractions in today's world and it's extremely easy to get sidetracked from reaching your goals. I'm fortunate to have opportunities to provide motivational presentations to people of all ages, and the last thing I usually tell them is: "Tomorrow you will not be the same person you are today … you'll either be a little bit better or a little bit worse … each day strive to be a bit better!"
Q: What do you enjoy doing when you are not working?
In May 2015, my wife and I had our first son, so when I'm not working, I enjoy spending time with my family. Outside of family time, I played football at Penn State, so of course I enjoy getting back to Penn State to watch football games. •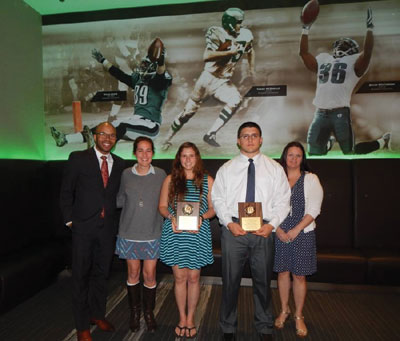 The 2016 Adam Taliaferro Foundation Community Service Athletes of the Year provides a luncheon, hosted by the Philadelphia Eagles at Lincoln Financial Field.
(Photo courtesy of the Adam Taliaferro Foundation.)