Alumni
Letter from the Chairman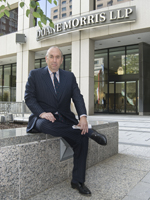 In the last issue of Spotlight, we shared the news of our Middle East expansion through a joint venture in Muscat, Oman. Since then, Duane Morris has again grown its international footprint by opening an office in a still-untapped market: Myanmar.
Myanmar, also known as Burma, presents significant opportunities for foreign businesses, and our new presence there will allow us to provide on-the-ground, high-quality counsel to foreign and domestic businesses seeking to seize those opportunities. Clients of our Singapore office were increasingly active in Myanmar, both as investors and business operators there, so the move to open an office in Myanmar was a logical next step to our overall strategy for Southeast Asia. We are excited to grow where our clients need us most. Stay tuned for more international news from the Firm.

In this issue, we hear from Mark Cedrone, a talented white-collar criminal defense lawyer with whom many here had the pleasure of working in the 1980s and early 1990s. Mark has been doing very interesting work at his own shop, where he also has the fun of working alongside his daughter, Aubrey.
We would love to hear from you about your own Duane Morris stories and where your own path has taken you. You can reach me at soroko@duanemorris.com or contact alumni@duanemorris.com.
With kindest regards,