Alumni
Letter from the Chairman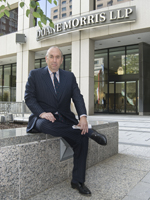 In Alumni Spotlight, we've featured Duane Morris alums who have gone on to a wide variety of endeavors. From serving in the judiciary to being executives and entrepreneurs, Duane Morris has been an important and formative step in some very successful, and very diverse, career paths.

Two such examples, one protecting intellectual property rights for a billion-dollar global entertainment company and the other laying the groundwork for improved legal systems in developing countries, are the focus of this edition.
Matthew Winterroth is leading IP portfolio enforcement for WWE, also known as World Wrestling Entertainment—the entity that propelled the career of performers such as Dwayne "The Rock" Johnson and others, as well as promoting their ubiquitous broadcasts, live events and merchandise.

A world away, Neha Pandya Dave is applying similar force to spearhead initiatives aimed at improving governments and legal systems in African countries, such as Uganda and Rwanda. Even though Matt's and Neha's work experiences are seemingly on opposite ends of the spectrum, they share the bond of having begun their legal careers at Duane Morris.
The fact that Matt and Neha have become leaders in their fields is a testament to the Firm's commitment to fostering and maintaining an environment that is conducive to the personal and professional development of our young attorneys and senior attorneys alike.
This supportive culture encourages all attorneys to pursue career aspirations and achieve goals by providing them with the tools and experience necessary to excel in any setting. As a result of these efforts, the Firm is frequently recognized by various publications for cultivating a positive environment for our lawyers and staff, and I am pleased to share in this issue a few of our recent honors.
We are pleased to bring you this edition of Alumni Spotlight and we welcome your feedback. Please do contact me at soroko@duanemorris.com or alumni@duanemorris.com to share your news and accomplishments.
With kindest regards,