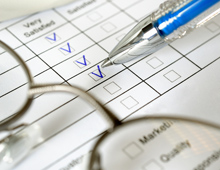 About Duane Morris
Firm Rankings and Statistics
Past and Present
Firm Accolades & Honors
Attorney Accolades & Honors
Diversity
Women's Impact Network
Pro Bono Program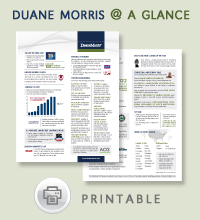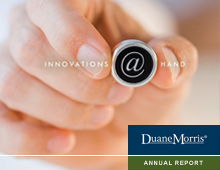 Firm Rankings and Statistics
Chambers USA 2015

> Ranked among national leaders in Insurance, Construction and Immigration
> 58 attorneys receiving 65 citations for excellence
> 19 practice areas cited for excellence

Chambers Associate reports: "There are 'high expectations for associates' at Duane Morris, who appreciate the firm's 'friendly atmosphere' and 'team-oriented culture.'"

Leader in Bankruptcy Law

The Deal ranks Duane Morris among the most active bankruptcy practices in the United States. No firm handles more cases with more total assets than Duane Morris. (Active cases involve an estimated $922.4 billion in liabilities. Q3 2015)

U.S. News-Best Lawyers
Best Law Firms 2015

> Duane Morris is "Law Firm of the Year" in two disciplines: Construction Litigation and Bankruptcy Litigation
> Top-tier national rankings in Appellate, Banking and Finance, Bankruptcy, Construction, Corporate, Healthcare, Immigration, Insurance, IP Litigation, Patent and Venture Capital law


National IP Rankings

National publications have repeatedly ranked Duane Morris among the leading U.S. law firms handling patents, trademarks, copyrights and related litigation, including Corporate Counsel, Managing IP, IP Today and IP Law360

Global Advisor in BioTech and Pharma

> Top 10 Global Legal Advisor in Biotech and Pharma Licensing Agreements in BioPharm Insight (Q1 2015)

ACG Official Sponsor of Growth

Duane Morris is an ACG Official Sponsor of Growth, joining with the Association for Corporate Growth to champion middle-market private investment.