About Duane Morris
Firm Rankings and Statistics
Past and Present
Firm Accolades & Honors
Attorney Accolades & Honors
Diversity
Women's Initiative
Pro Bono Program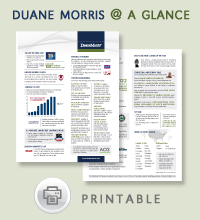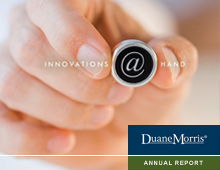 About Duane Morris
Duane Morris LLP, a law firm with more than 700 attorneys in offices across the United States and internationally, is asked by a broad array of clients to provide innovative solutions to today's legal and business challenges.
Evolving from a partnership of prominent lawyers in Philadelphia a century ago, Duane Morris now has offices in many major markets and continues to expand across the country and overseas. Throughout this expansion, Duane Morris remains committed to preserving the collegial culture that has attracted so many talented attorneys. The firm's leadership believes this culture is truly unique among large law firms, and that outstanding legal work is best accomplished by skilled professionals who respect each other and work well together.
Duane Morris lawyers hold leadership positions in professional associations, as well as in educational, cultural and charitable organizations and with community groups. Many of the firm's attorneys come to Duane Morris after having held senior positions in government agencies and large corporations.
At A Glance
AmLaw 100 Since 2001
> More than 700 lawyers in offices in the U.S., UK and Asia
> Firm has nearly tripled in past 16 years
> Over 25% of client business conducted through multiple offices and practices
Harvard Business School
Second HBS case study of the firm, titled "Duane Morris: Collaborating for Growth," was part of the Harvard Business School curriculum and made available to business schools around the world for course study.
Offices Worldwide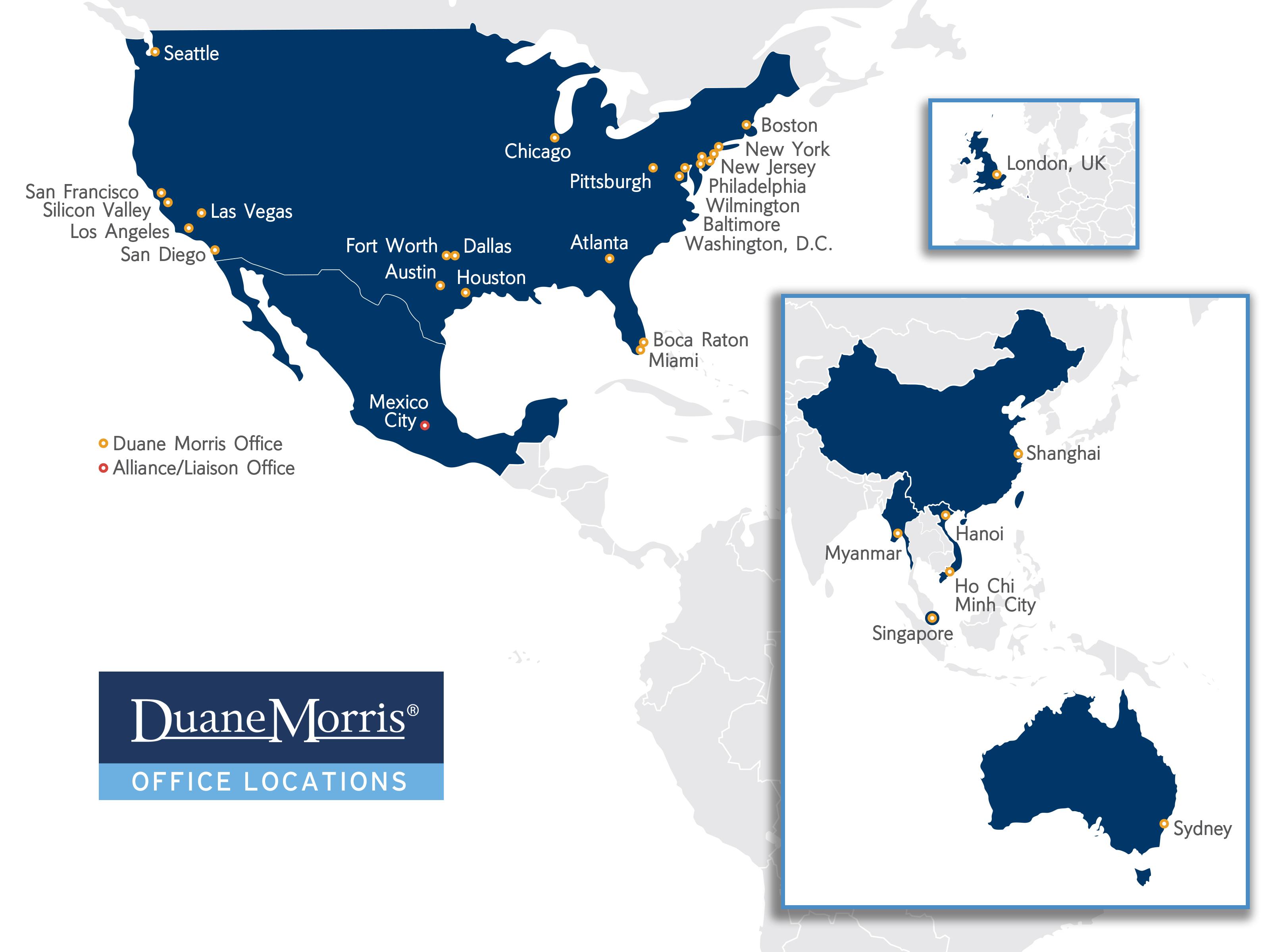 > Joint ventures in Singapore, Myanmar and Oman
> Alliances in Mexico and Sri Lanka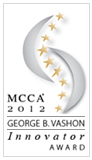 > Leadership positions with international networks of independent law firms
Diversity & Inclusion
> Duane Morris is considered a pioneer in law firm diversity efforts
> Winner of prestigious Minority Corporate Counsel Association Innovator Award (renamed after George B. Vashon, further honoring a Duane Morris tradition)
> Among the first to name a Chief Diversity Officer
> Annual firmwide Diversity & Inclusion Retreat and targeted business development efforts
"Green" Law Firm

> Duane Morris has lawyers accredited by the U.S. Green Building Council as LEED (Leadership in Energy and Environmental Design) professionals
> Member: American Council On Renewable Energy (ACORE)
> San Francisco office is LEED certified, and Las Vegas office is LEED Silver certified/part of a downtown revitalization effort
Women's Initiative

> One of the 50 Best Law Firms for Women by Working Mother based on firm's family-friendly policies and business-development initiatives that retain women and advance them
> Pennsylvania Bar Association Honor Roll of Legal Organizations Welcoming Women Professionals for past five consecutive years
> Women's Initiative actively fosters and expands business contacts and opportunities to enhance professional development
Pro Bono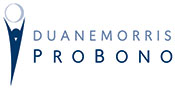 > In 2013, 65 volunteers dedicated over 1,850 hours of pro bono legal assistance to aiding human trafficking survivors,
> and another 40 volunteers dedicated over 500 pro bono hours to assist veterans and service members seeking disability benefits, compensation for combat injuries and other aid
> Regularly support microentrepreneurs, small business owners, artists and nonprofits that serve our communities and further economic development in low-income neighborhoods