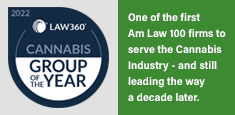 In a field rife with rapid regulatory changes and legal uncertainty, Duane Morris LLP's experience advising multimillion-dollar acquisition and tax settlement deals has placed it in the forefront of major industry developments, earning it a spot on Law360's 2022 Cannabis Groups of the Year.
The national firm has been litigating cannabis cases for years, allowing it to help shape the nascent industry from the courtroom, by serving as representation in busted deal litigation, and in the advocacy arena, by urging stock exchanges to list "plant-touching" cannabis operators that cultivate, process or sell the drug, among other things.
As the legal cannabis sector becomes more competitive, Duane Morris needs to "strengthen our bench" to distinguish itself from other cannabis practice groups, according to partner Tracy Gallegos. She is a team lead for Duane Morris's cannabis industry group.
Gallegos brings a presence in the Western U.S. and highlighted a "significant increase" in the amount of debt financing deals in the cannabis space last year — another signal of a maturing market.
[...]
In 2022, partner Paul Josephson said he started to see banks become more willing to begin lending to the sector. Duane Morris also helped steer at least one major consolidation deal with Harborside Inc.'s cash-and-stock acquisition of cannabis manufacturer and distributor Loudpack.
[...]
Duane Morris's Tom Ostrander represented Harborside in the matter, and Josephson said the Harborside tax settlement "has to be viewed as one of the major achievements this year."
"We have been doing more and more work in the tax appeal space and obviously, because of the 280E issue, a lot of our clients are facing issues with respect to the IRS," according to partner Seth Goldberg. IRS Section 280E denies deductions on usual business expenses for cannabis businesses because the drug is listed as Schedule I under the Controlled Substances Act.
The cannabis practice also allows Duane Morris to offer more comprehensive representation.
To read the full text of this article, please visit the Law360 website (subscription required).