Sheila Hollis Named to American College of Environmental Lawyers
By Matthew Huisman
August 27, 2012
The Blog of Legal Times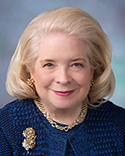 The chair of Duane Morris' Washington office has been elected to become a fellow with The American College of Environmental Lawyers.
Firm partner Sheila Hollis is one of 26 attorneys nationwide that will be inducted into the college during its annual meeting in October. She is one of four Washington-area inductees. The others are Scott Fulton, general counsel of the Environmental Protection Agency; Kevin Gaynor, a partner at Vinson & Elkins; and Lisa Heinzerling, a professor at Georgetown University Law Center.
"Whether it's natural gas or electric power, any major commitment to a massive project is going to involve environmental issues that have to be resolved," Hollis said. "One thing about energy and environmental law is that one size does not fit all. Each has its own nuances and challenges and opportunities."
Hollis represents government bodies and the power and natural gas industries on domestic and international energy, water and environmental matters. She said she looks forward to joining others who practice the same area of the law as they share ideas about the future of the field.