NEW YORK, June 20, 2014—Duane Morris LLP is pleased to announce its Corporate Practice Group has been named by The Association for Corporate Growth (ACG) New York and The M&A Advisor as "Law Firm of the Year" for the second year in a row.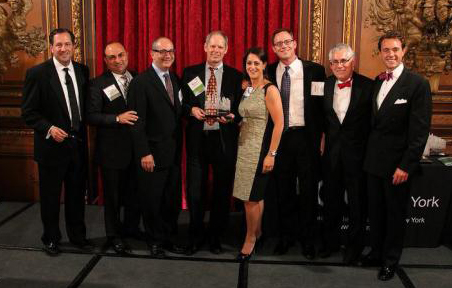 Leading middle market transactions, firms and dealmakers in the greater New York area were recognized at the fourth annual ACG New York Champion's Awards Gala at New York's Metropolitan Club on Thursday, June 19. ACG New York members casted their votes in five major categories, including Law Firm of the Year. Accepting on behalf of Duane Morris were New York partners Nanette C. Heide and Michael D. Schwamm, Philadelphia partner Darrick M. Mix, New York office head Michael D. Grohman and former Philadelphia partner (now firm client) Richard Silfen.
ACG is a 14,500-member global professional organization for the middle market M&A dealmakers and business leaders focused on driving growth. Duane Morris is an ACG Official Sponsor of Growth and holds a leadership role in its Middle Market Private Capital Leadership Forum.
Members of Duane Morris' Corporate Practice Group advise clients in connection with mergers and acquisitions, public and private offerings of equity and debt securities, corporate finance, corporate compliance, corporate governance and taxation. The firm's attorneys have experience in venture capital and private equity transactions, negotiated acquisitions and divestitures, and defense against takeover attempts. Duane Morris lawyers also regularly represent international clients in both domestic and cross-border transactions.
About Duane Morris
Duane Morris LLP, a law firm with more than 700 attorneys in offices across the United States and internationally, is asked by a broad array of clients to provide innovative solutions to today's legal and business challenges.