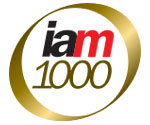 Duane Morris' Intellectual Property Practice Group and attorneys have been recognized by IAM Patent 1000: The World's Leading Patent Professionals 2021.
In Georgia, L. Norwood (Woody) Jameson, chair of the firm's IP practice, and partners Matthew C. Gaudet and Robin McGrath are ranked. IAM writes:
In patent litigation, Duane Morris is "effective, organised and efficient, and gets excellent results on a consistent basis". Multinationals such as Cisco Systems know this well: the tech conglomerate has instructed Matthew Gaudet and Norwood (Woody) Jameson on many occasions. Both play vital leadership roles in a high-octane group of trial lawyers with a complete command of the technical and advocacy elements of effective litigation – Gaudet as patent litigation co-chair and Jameson as IP group chair. Besides their Cisco activities, they have a lot else going on: Gaudet, for example, recently scored a win for Palo Alto Networks in a patent infringement case filed by Selective Signals; he stayed the district court case before invalidating all asserted claims of the patent in an inter partes review. Additional firepower in Atlanta is supplied by Robin McGrath, whose characteristic versatility was put on display in recent battles in the energy, internet security and automotive fields. Financial technology is a specialist subject for her, though, and she takes charge of the firm's dedicated industrygroup.
In Pennsylvania, the firm and partner Samuel W. Apicelli are recognized in the prosecution category. IAM Patent writes:
Duane Morris's robust prosecution practice is a major factor in its patent litigation success: the firm gets patents at the most meaningful level, having gone through the process of obtaining, managing and commercialising them, and has abundant technical expertise across the full range of disciplines. The preparation and prosecution group takes its cue from Samuel Apicelli, a strategic counsellor par excellence and a vital support to many litigation teams as they get to grips with the subject matter of their cases. He has safeguarded the innovations and advanced the business objectives of patrons for many years; for Wright Medical, for example, he has worked magic for nearly two decades, securing it over 500 patents and advising extensively on the patentability of inventions and wider IPstrategy.
Additionally, Stuart Bartow and Philip W. Woo are ranked in California.
Duane Morris trial lawyer Stuart Bartow has had some notable successes for Trend Micro, including against Intellectual Ventures, and is currently representing it in the Western District of Texas against claimant Eighth Street Solutions. His strategies are aggressive, but thoughtful. In the firm's Palo Alto office, colleague Philip Woo is an all-rounder with a wealth of litigation, prosecution and post-grant expertise. On the portfolio development side, Woo undertakes significant work for LG Electronics, including in the connected vehicle area, where he leans heavily on his standards-related knowledge.
About IAM Patent 1000
Online and in its printed version, the IAM Patent 1000 is commonly regarded as the definitive "go-to" resource for those seeking to identify world-class, private practice patent expertise and leading expert witnesses in the U.S. As with previous editions, to arrive at the 2021 rankings, IAM undertook an exhaustive qualitative research project to identify outstanding firms and individuals across multiple jurisdictions. When identifying the leading firms, factors such as depth of knowledge, market presence and the level of work on which they are typically instructed were all taken into account, as well as positive peer and client feedback. For more information, visit the IAM Patent 1000 website.
About Duane Morris' Intellectual Property Practice Group
Duane Morris LLP has been ranked among the leading law firms handling patents, trademarks, copyrights and related IP Litigation by national publications. The firm's IP attorneys focus on leveraging clients' valuable intellectual property to help them achieve success in the marketplace, offering portfolio management and strategic advice on obtaining and protecting IP—from patents to trademarks and copyrights, to licensing and technology transfers, to IP audits and IP asset due diligence.