Duane Morris Partner Dominica Anderson to Receive Award from National Association of Women Lawyers
May 3, 2011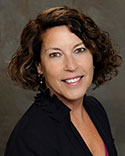 SAN FRANCISCO, May 3, 2011—The National Association of Women Lawyers (NAWL) has selected Duane Morris partner Dominica Anderson to receive its Virginia S. Mueller Outstanding Member Award. Anderson will receive the award at NAWL's Annual Meeting and Awards Luncheon on July 21, 2011 at The Waldorf-Astoria in New York.
Anderson is the managing partner of Duane Morris' Las Vegas office and practices out of both the firm's Las Vegas and San Francisco offices. She is a member of the Duane Morris Women's Initiative Steering Committee. Dominica practices in the areas of insurance and commercial litigation with an emphasis on complex litigation. She has experience in a variety of complex general commercial litigation, including securities litigation; antitrust; contract disputes; e-commerce and intellectual property issues; domain name disputes; trademark and copyright issues; and unfair competition issues. She also has litigated construction, negligence, strict liability and products liability cases. Dominica's insurance practice has included coverage disputes concerning construction defects, and claims for a variety of toxic torts and health hazards, including asbestos, chemical and petrochemical exposures; electromagnetic fields; agricultural products; and drugs and medical devices. She has represented clients as trial and appellate counsel in numerous significant matters.
NAWL is a national voluntary legal professional organization devoted to promoting the interests and progress of women lawyers and women's legal rights.
About Duane Morris
Duane Morris LLP, a full-service law firm with more than 700 attorneys in 24 offices in the United States and internationally, offers innovative solutions to the legal and business challenges presented by today's evolving global markets.