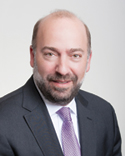 Duane Morris partner Paul P. Josephson has been named to the 2019 "Insider 100: Policymakers" list by Insider NJ. Mr. Josephson was also included in the 2017 and 2018 lists.
"The list assembles names listed … because of the rigorous quality of their public policy minds," according to the publication. "[Paul Josephson is] an expert on transportation and casino issues – and cannabis."
Mr. Josephson advises CEOs, elected officials, and agency heads on a broad spectrum of matters involving significant public interests or highly regulated by government agencies. His areas of practice include: government contracting and administration; business permitting and licensing; economic incentives; infrastructure and real estate development/redevelopment; environmental and land use regulation, including condemnation and regulatory takings; health, energy, banking, insurance and professional regulation; corporate compliance and government ethics and transparency; political advocacy, including all aspects of election and campaign finance, nonprofit and trade association activity, and media law; gaming, including casino, internet and sports betting, lottery, horse racing, and sweepstakes; and cannabis licensing, finance, real estate, advocacy and business strategy.
To read the 2019 "Insider 100: Policymakers" publication, please visit the Insider NJ website.