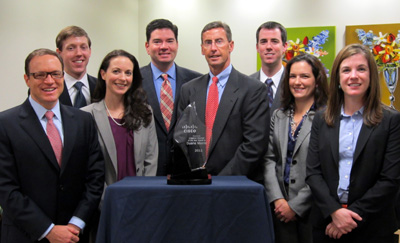 ATLANTA, January 23, 2012—Duane Morris LLP is pleased to announce that client Cisco Systems, Inc., a leading global provider of networking products and services, has announced that the firm has been designated the winner of its Litigation Counsel of the Year Award for 2011 as a result of Duane Morris' work for Cisco on patent litigation matters. The annual award recognizes a law firm that has provided high-quality and efficient legal counsel and valuable strategic business insight to Cisco, contributing to the company's success.
Duane Morris' Cisco team is led by Louis Norwood "Woody" Jameson, chair of the Duane Morris Intellectual Property Practice Group and managing partner of the firm's Atlanta office. The team includes partners Matthew Gaudet and Matthew Yungwirth in Atlanta and Joseph Powers in Philadelphia, as well as associates David Dotson, Jennifer Forté, John Gibson, Alison Haddock and Stephanie Hansen, all in Atlanta, and John Baird in Washington, D.C.
"This award is a testament to our commitment to Cisco, and indeed to all of our clients, to provide top-notch, cost-effective legal services," said John Soroko, Chairman of Duane Morris. "Woody and his team have exemplified that approach in IP litigation and other areas as well."
"I know that Cisco uses many excellent law firms across its broad range of litigation matters, and this acknowledgement of our work in defending patent litigation in particular means a great deal to us," added Jameson. "We are proud to represent Cisco in its intellectual property matters, and we sincerely thank our colleagues there for this honor. We look forward to further strengthening our collaborative relationship and assisting Cisco in pursuing its business goals in 2012."
The criteria used by Cisco in evaluating firms for this award include, among other things, the ability to achieve beneficial and efficient litigation outcomes; responsiveness, cost-consciousness and cost-effectiveness; implementation of creative litigation strategies; and awareness and understanding of Cisco's unique commercial issues.
About Duane Morris LLP
Duane Morris LLP, a full-service law firm with more than 700 attorneys in offices across the United States and around the world, offers innovative solutions to the legal and business challenges presented by today's evolving global markets.