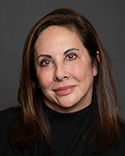 SAN DIEGO, May 19, 2011—Jennifer A. Kearns, a partner at Duane Morris, was honored by the Tom Homann LGBT Law Association with its annual Friend of the Community Award. The award is presented to people who have made a positive impact in San Diego and the lesbian, gay, bisexual and transgender (LGBT) community in particular. Kearns was honored for her work in support of Mama's Kitchen, Inc., a San Diego nonprofit organization. She first became involved with Mama's Kitchen nearly 20 years ago. The organization was founded to deliver hot meals and groceries to low-income persons affected by HIV/AIDS and their families. In 2006, Mama's Kitchen expanded its mission to serve low-income persons affected by cancer. Since its inception, Mama's Kitchen has delivered more than five million free meals.
Kearns practices in the area of employment law, both in the transactional and counseling arena, and in the litigation context. Kearns has many years of experience in counseling and advising employers on all aspects of employment law under federal and California state law. She conducts training for management and assists employers, from startups to large companies, in developing and implementing policies and best practices. She has a particular interest in working with companies in analyzing and resolving matters involving nonsolicitation and noncompetition agreements (restrictive covenants). While Kearns' practice is primarily management-side, she also represents and advises individual executives in negotiating executive employment agreements and, on occasion, severance packages.
About Duane Morris
Duane Morris LLP, a full-service law firm with more than 700 attorneys in 24 offices in the United States and internationally, offers innovative solutions to the legal and business challenges presented by today's evolving global markets.