Alumni
Letter from the Chairman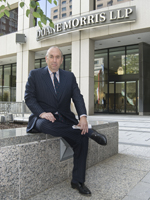 Duane Morris continues to grow in new and exciting ways. In March, the Firm opened its first office in the Middle East through a joint venture in Muscat, Oman, with the Al Mashaikhi Law Firm. Duane Morris partner Jeffrey Rodwell, formerly based in Duane Morris' London office, relocated to Muscat to serve as managing director. Jeff now practices alongside Dr. Said Al Mashaikhi, the founder of the Omani firm. It's a significant expansion that will help to serve our clients' needs throughout the Gulf region.
Just as our firm grows, so do opportunities for our alumni. This edition brings you an interview with U.S. Bankruptcy Judge Karen Overstreet of the Western District of Washington. Karen is doing important work, both on the bench and in her work for a nonprofit that focuses on financial literacy. Also in this issue, we hear from David Skeel, a professor at Penn Law School, whose academic endeavors focus on bankruptcy and corporate law.
We would love to hear from you about your own Duane Morris stories and where your own path has taken you. You can reach me at soroko@duanemorris.com or contact alumni@duanemorris.com.
With kindest regards,