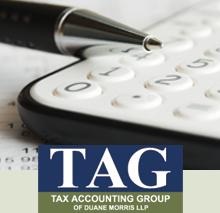 Home
Welcome to the Tax Accounting Group
Welcome and thank you for visiting the Tax Accounting Group of Duane Morris LLP website. In addition to providing you with a profile of our group and the services we provide, this site has been designed to be a helpful resource tool. It includes informative articles, financial analysis tools, and external websites that we thought would be of interest to you. Please feel free to contact us with any questions or comments you may have.
The Tax Accounting Group ("TAG") was the first ancillary practice of Duane Morris LLP and is one of the largest tax, accounting and litigation consulting groups affiliated with any law firm in the United States. TAG has an active and diverse practice with over 60 service lines in more than 45 industries, and serves clients in nearly every state and 25 foreign countries. TAG's certified public accountants, certified fraud examiners, chartered financial analysts, financial consultants and advisors provide a broad range of cost-effective tax preparation, planning and consulting services as well as accounting, financial and management advisory services to individuals, corporations, partnerships, estates, trusts and nonprofit organizations.
TAG also provides an array of litigation consulting services to lawyers and law firms representing clients in regulatory and transactional matters and throughout various stages of litigation.
Service Mission: To enthusiastically provide effective solutions that exceed expectations.
Range of Services
Traditional and Innovative
Our clients have access to a wide range of services including:
Tax compliance and planning services
Accounting, financial and management advisory services
Financial planning services
Litigation consulting services
Selecting an adviser, whether an expert or consultant, is one of the most important decisions you will make. Our service mission is to enthusiastically provide effective solutions that exceed expectations. We invite you to evaluate our approach to your needs and to allow us the opportunity to introduce you to exemplary service, technical proficiency and innovative ideas.
For More Information
For additional information, please contact Michael A. Gillen, Director of the Tax Accounting Group, or the Tax Accounting Group practitioner with whom you are regularly in contact.